Grandmother's Fried Chicken Sunday Dinner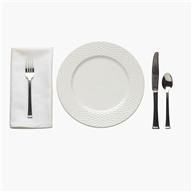 Ok, I'll admit it.  I am completely addicted to fried chicken.  I could eat it everyday, if only my arteries could take it.  Fried chicken was the comfort food of choice for my childhood years, and the very best was made in my grandmother's kitchen in her cast iron skillet.
My grandmother lived on a very small farm, about two acres, where she raised chickens and had an extensive vegetable garden.  She canned fruit and vegetables, and made pickles, jellies, and chutneys.  As a kid, I learned to appreciate the difference that a really fresh egg can make to breakfast.  This was the era of putting bacon grease in the vegetables, and potatoes were served at almost every meal, often with corn.  Her fried chicken started off with catching one, wringing its neck, plucking the feathers, then cleaning it before cutting it into pieces.
My grandfather was a fried chicken freak as well.  He once made a bet with my grandmother that he could eat fried chicken three times a day every day.  So she took that bet, killed a chicken every day, plucked and cleaned it, and fried pieces three times a day for three months.  He happily ate every piece.  Yes, he even ate it for breakfast!!  At the end of three months of this, she gave up and told him he won.  It was years before she would fry chicken again.
I have searched in every town I have lived in for that hole-in-the-wall, out of the way place that fries chicken the old fashioned southern way.  No cayenne pepper for me!!  There is no way that any chain can do this southern tradition the way it should be.  The pieces must be huge, crust thick and golden crunchy, delicately seasoned, with tender, juicy meat.  Just walking into a place, I can tell by the aroma if they know how it is done.  Sadly, the local haunt here that really knew how to fry a perfect chicken has closed.
Years ago while living in another state, I would drive two hours to a mom-and-pop place called Leslies, just to eat the best fried chicken on the planet.  It was in an old house where every room was crammed with tables and chairs and there were chickens everywhere.   Chicken shaped salt-and-pepper shakers, chicken pie plates and dinner plates, chicken planters and candlesticks, chicken trivets and cookie cutters and anything else you can name were displayed on shelves or hung on the wall in every single room with little of the wall showing.  The aroma of fried chicken was so wonderful, and it permeated your clothing while you ate.  The recipe used there has never been duplicated.  All I know is that it was batter-fried and the batter contained honey.  Not only would I have a meal there, I would bring home a 24-piece box for the next few days.  No, I wouldn't eat it all myself, but I could have!  Leslies went out of business years ago, and I wore black for a week in mourning.
Back to my grandmother's chicken, she made it her own way, but I'll share her secret with you.  She soaked the chicken pieces in buttermilk for at least an hour in the refrigerator, and sometimes overnight.  Then, she would dip them in egg, plunge them into a paper bag with her seasoned flour and shake it.  She only used salt and pepper in the flour.  She just let the pieces sit in the flour inside the paper bag for about five minutes.  Then she would give the bag a shake and let it sit a while longer.  Depending on her mood, she might shake that bag several times.  Heating up her cast iron skillet, she melted shortening to a depth of halfway up the side of the skillet.  Then when the melted shortening was hot, she would take the chicken and gently lay it in the hot oil, frying for about 12-15 minutes per side on a medium high heat.  She would cover the pan with the heavy cast iron lid.  When the chicken pieces were golden brown and cooked through, she drained them on paper towels.  Heavenly!!
I inherited that well-seasoned cast iron skillet, although my chicken will never be as good as hers. I also have several of her chicken salt-and-pepper shakers that now happily reside in my kitchen.   They remind me of a happy time, when getting a plate of fried chicken was the highlight of the week.  Those precious memories of a loving grandmother, a warm and sunny kitchen, and the wonderful aroma of many aSunday dinner will stay with me forever.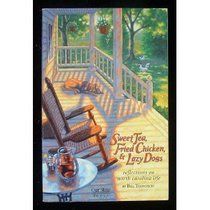 Sweet Tea, Fried Chicken, and Lazy Dogs: Reflections on North Carolina Life
by Bill Thompson

Fried Chicken: An American Story by John T. Edge

Fried Chicken by Damon Lee Fowler

Tags: Book Recommendations, Members