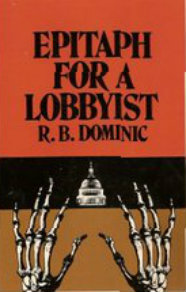 An indiscreet memo leaked to the papers by her own daughter implicates Shirley Knapp, lobbyist for energy and oil companies, in a possible case of bribery. The vote to kill a pollution control provision in a new law cost $50,000 in 1974, which would be about $235,000 in today's purchasing power. Series hero Congressman Ben Safford (D, OH) is named chair of the committee to investigate the charge of bribery.
When Shirley Knapp is found shot to death in her car, Ben leads his committee members as they formally and informally investigate the bribery, which they assume is linked to Knapp's murder. House members Val Oakes and Lou Flecker are veterans of politics, both conservative, though in different parties. Elsie Hollenbach is a California liberal, moralistic but politically canny. Tony Martinelli is machine Democrat from RI, practical and realistic. Their conversations are intelligent and plausible.
Suspicion falls on the three congressmen that voted to kill the proviso. Although this really limits the number of suspects, I didn't see whodunit until the reveal. The fair play really is amazing. We are indeed given all we need to know. The reveal proves that we missed the obvious as do our hero congress members. It is often the case that the really sophisticated can be in the end very simple.
The authors of this book were Mary Jane Latsis, an economist, and Martha Henissart, an economic analyst. Both knew from their professional experience that astute people will in fact get distracted and miss what is staring them in the face. They know how people at all levels think and act in business and government. Obviously specific conditions are dated (e.g., the non-partisan respect the politicians have for each other), but classic are the treatments of how people with agile minds and deep experience deal with novel situations. That timelessness is what makes these R.B. Dominic novels – there are seven –worth reading still.
These authors also wrote a couple dozen business mysteries under the pen name of Emma Lathen. Perhaps to distinguish the style of R. B. Dominic, they have the mildly annoying wont of always modifying a verb meaning "say" with an adverb or adverbial phrase: "said reminiscently" or "roared in anger." Also, people don't just say things they "mutter," "interject," "murmur," "bleat" and so on. It's a defect we expect from a whodunnit writer of the 1920s.
Save
Save
Save