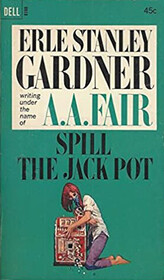 Spill the Jackpot
by Erle Stanley Gardner writing as A.A. Fair
Gardner wrote 29 Bertha Cool-Donald Lam mysteries. This 1941 entry, the fourth, is one of the better outings. It opens with Bertha checking out of a six-month stay in a sanitarium where she was recovering from a combined form of flu and pneumonia. In a well-plotted story, Lam investigates a disappearance and a murder.
When Gardner wrote as Fair, he allowed himself more digressions from the plot than in Perry Mason novels. He describes the desert country of Nevada and Arizona with affection and awe. He gives the reader a feeling that she's learning something with a tangent on the inner workings of slot machines. For athletes he gives retro advice on the road work and training that goes into becoming a pugilist. He explores Lam's wrestling with moral ambiguity with his relationship with a bad girl on the run – who is using whom?
I highly recommend this vintage mystery. Like many born-in-the-Fifties readers, I first read Cool & Lam mysteries as a teenager. Returning to them lately, I have to make allowances for old-timey technology and attitudes, but find the plots clever and the interplay between Bertha and Lam almost as funny as between Jeeves and Bertie Wooster.