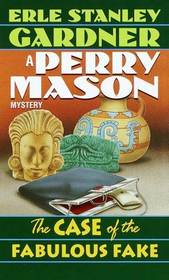 It is 1969 in Los Angeles. Diana Douglas and her brother Edgar are both employees of the Escobar Import & Export Company of San Francisco. Though controls in the company are cool and casual, auditors have tumbled to the fact that about $10,000 ($72,000 in 2022) is missing from the cash safe. Edgar, a charming do-nothing employed as a favor to his sister, may have embezzled it to settle gambling debts to wise guys.
LA blackmailer, Moray (as in eel) Cassell, has heard a rumor of the missing cash and seems to have contacted Edgar to put the bite on him. Sensitive Edgar got knocked out in an auto accident and is in a coma so sister Diana decides to pay The Eel off. Though she lies and frankly conceals information, Mason agrees to help Diana, mainly because he detests blackmailers. Mason admits he made a mistake when he unwittingly gave Diana enough rope to go and stick her pretty neck into an ugly noose. The inevitable murdered corpse in an apartment results in Diana being charged with Murder One since the murder weapon was a wooden-handled .22 owned by Edgar.
I'll read late career Gardner because I'm a fan. But critical me has to admit this last Mason mystery, #80, has its problems. It is almost a quarter shorter than usual. There aren't many suspects. The plot depends on an especially contrived coincidence revealed very late in the game. Gardner doesn't play fair with the reader when he withholds facts the reader needs to guess the perp. We long-time fans miss Hamilton Burger and his exasperated outbursts; there are no comfy exchanges with Della or Paul Drake. Slightly grating is Gardner's habit of making adverbs do more than their share of the work as characters glance meaningly, look quizzically, nod solemnly, and say impressively.
On the plus side, Gardner liked to stay abreast of new trends and technology so we feel the atmosphere of 1969 a little when he refers to computers, credit cards, electric typewriters, car phones, the Miranda decision of 1966, and the ease of taking guns onto airliners. The other plus is that a familiar Garderian heroine takes the stage yet again. That is, even though impetuous Diana Douglas plays fast and loose with the truth, she's brave, headstrong, and loyal to her brother. And she's starry-eyed with gratitude at the end after Perry foils the System's savage determination to put her in the gas chamber.