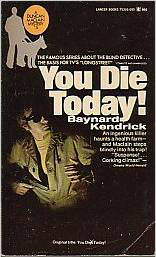 In this mystery from 1952, Captain (US Army) Duncan Maclain, blinded in WWI, comes to the aid of Ted Yates, blinded in combat in Korea. The police think Yates ran amuck with a pistol. Maclain has become a PI. He is aided by his seeing eye dog Schnuke and his bodyguard dog Driest. His assistant is Spud Savage (now there's a name for the pulps) and his driver Cappo.
The plot and action are too varied to get into in a short review. A lawyer and business executive before he was a full-time writer, Kendrick was sighted but he worked with blind vets in real life. So, he has insight into the challenges of the blind having to adjust. The blindness is decidedly not only a feature to set Maclain off from other whodunit sleuths. Maclain has sharpened not only his four remaining senses, he also does jigsaw puzzles to help him focus his concentration on the problem at hand. I will say that readers who dislike contraptions a la Rube Goldberg may want to steer clear, though Intricate Engines of Death are a Golden Age Mystery standby.
I liked the story because of the unique characters and clear prose. Not being a mechanical kind of guy, I was less captivated with the reveal.
Tags: Book Recommendations, Book Reviews, Book Suggestions, Mystery