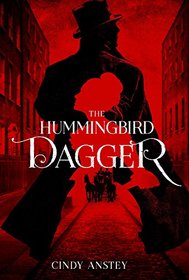 Review by Mirah W. (
mwelday
)
England, 1833.  Young Walter Ellerby is out cavorting with a friend near his family's estate and is involved in a frightful accident with a strange carriage. A young woman from the carriage is injured in the accident and the men with her seem cagey and uncooperative.  The young woman is taken back to Hardwick Manor by Walter's older brother, Lord James Ellerby, and the men from the carriage make their escape.  Thus begins the mystery of The Hummingbird Dagger.
The family is deeply concerned about the young woman's welfare and takes responsibility for her care; however, there is more than physical wounds to recover from- the young woman has no memory of who she is or why she was traveling in the carriage. The Ellerbys begin calling the young woman Beth and they all develop an attachment to her and do what they can to protect her and help her regain her memory. Throughout Beth's recovery she is plagued by nightmares of a bloody dagger with a hummingbird carved into the hilt. In addition to the nightmares, there are other kidnappings, secrets, murders, and attacks that make Beth's story even more confusing to herself and the Ellerbys.
The Hummingbird Dagger is the first novel I have read by Anstey and I found it a solid 4-star young adult mystery novel. I thought the characters were endearing (I rather loved Caroline, Lord Ellerby's sister, and Dr. Brant), but I could have used a little more character development. I thought the pace of the novel was good and I did not unravel the mystery early but, in hindsight, there were a few breadcrumbs left along the way. The novel was wrapped up well and I think there is the opening for other novels featuring some of the same characters.  I, for one, wouldn't mind another visit to Hardwick Manor.