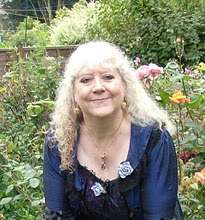 Today's Author Interview by Jerelyn (I-F-Letty)  is with Helen Hollick. Thank you both for this interview!
Jerelyn:  I would like to thank author Helen Hollick for agreeing to talk with us about her newly released novel I am The Chosen King.
Why did you choose Harold Godwinson to write about?
Helen:  He rather chose me! I had finished my Arthurian trilogy and could not decide what to write next. My mother was organising a Women's Group outing to Hastings, calling in at Battle Abbey – the site of the Battle of Hastings – on the way. There was a spare seat, so I went along. Walking the battlefield (on my own because it was raining) was such a magical experience…. Add to that, Harold's own abbey at Waltham (Waltham Abbey) is only a few miles from where I live.
So he was an easy choice really!
Jerelyn:   It always amazes me how much research a historical fiction novel takes, it is evident that you did a great deal, just how long does it take you to do your research before your ready to sit down and write?
Helen:  It took me about a year to research for Harold the King (UK title) / I Am The Chosen King (US title) Another year to write it!
Jerelyn:    Often times there is very little information about the women of this time period, how do you go about fleshing them out?
Helen:  The small bits of information form the framework. For instance: we know that Edyth Swanneck was "wife" to Harold for about 20 years, and they had at least six children. So I built around that, adding domestic scenes and things from my own experience: Edyth riding her pony, walking with her daughter etc., From Saxon recipe books used domestic duties – all the little things that make up everyday life.
Jerelyn:   Besides Harold do you have a favorite person or people that you found while writing the book?
Helen:  Yes, Edyth Swanneck. She came from a village, Nazeing, which is also near to where I live. I saw her very clearly in a dream (another reason why I wrote the book) I dreamt the entire scene that became chapter 2 – seeing and hearing everything.
(*laugh* that will make you read the book now – to find out what happens in chapter 2!)
Jerelyn:   Your battle scenes are very well done, how do you go there?
Helen:  I go to a lot of re-enactments – I attend the Battle of Hastings re-enactment every year, signing books, but I have watched all sorts of battles. Some of them can get very realistic! The sight, sound, smell is as near to a battle as we can get. The rest, I'm afraid, is pure imagination.
Jerelyn:  What would you most like for people to take away with them upon finishing your book.
Helen:  Just enjoyment – and the knowledge that King Harold was our rightful King who gave his life defending his Kingdom and his people.
Jerelyn:   I understand that I am The Chosen King is being made into a movie titled 1066, and that you are co-screen writer.  Would you like to tell us about this?
Helen:  Yes that is right – when we can get the funding! I have worked on the project with the producer/director for about 5 years now (it takes a long time to get a movie together).
Our aim is to shoot an entertaining movie , but one that is as accurate as possible. The battle scenes, we promise, will be spectacular!
Jerelyn:  I'd like to change gears here, and ask you about a series you wrote called the Sea Witch Chronicles.  These are a particular favorite of mine.  So far there are three books and a fourth is slated for a fall release.
Helen:  Yes the fourth "Voyage" called Ripples In the Sand will hopefully, be published in October. I had wanted it ready for a Spring release, but publishing circumstances have caused a delay.
Jerelyn:  They are described as historical fantasy, why did you want to write about Pirates and what make them fantasy?
Helen:  I'm finding that I now describe them as Historical Adventure – it is very difficult to pigeon hole some books into a genre though. I suppose you could say they are "a blend of Bernard Cornwell's Sharpe with Hornblower crossed with Indiana Jones"
The "fantasy" is supernatural really. My pirate's girlfriend is a white witch – but not in the Harry Potter way, more the Star Wars "Force" way. She cannot perform magic spells – but she can use natural energy to conjure up a wind. I also have the supernatural elementals of Tethys, the Goddess of the Sea.
I wanted to write a pirate-based story because of falling for Johnny Depp's Captain Jack Sparrow. The first Pirates of the Caribbean movie was such fun I wanted to read some novels that were in the same vein – adventure with a touch of supernatural. But there weren't any!
Plenty of nautical adventures, several pirate adventures – but nothing with that extra touch of "fun". So I wrote my own!
Jerelyn:   I adore Jesamiah Acorne,  I have read the story of how he came to you while walking on the beach would you tell us the story?
Helen:  He is a charmer of a rogue isn't he? I went for a walk on a beach in Dorset, on the south coast of England. I had decided to write my story and was pondering the plot – the whole thing came to me except for my "hero"…. And then….
Well, you can read the whole encounter here…http://www.helenhollick.net/noteseaw.html
Jerelyn:   What were the challenges you faced when you departed from straight historical fiction?
Helen:  Finding a publisher for one. Publishers, for some strange reason think that no one likes reading about pirates….. A few people told me to write the story as "straight" fiction – but they had missed the point that the idea was to have a bit of make-believe fun!
I also found it quite difficult at first keeping to action, and not going into detail as I do in my "bigger" books.
Jerelyn:   Did you know about ships and sailing before writing these novels?
Helen:  Not a thing. Although I have always loved tall ships from when I was a small girl. The nearest I have been is sailing in a boat-lake dinghy! As soon as I started writing though, things just came naturally. Yes I had to look up specific words and manoeuvres, but the feel of a ship, the sounds, the smells – just being on a ship – well I just know it. I must have been a sailor in a previous life. My ancestors did come from Bristol….
Jerelyn:   What is next for you?
Helen:  After completing Voyage Four, Ripples In the Sand I intend to write another straight novel – either a follow-up to Harold or about Boudicca. Nor sure yet. And there will be at least Voyage Five "On the Account" and Six "Gallows Wake"  for Jesamiah fans.
Jerelyn:   Did you always want to be a writer?
Helen:  Yes, although until I was older I always thought writers were clever people who had degrees and a University education. (I haven't. I left school at 16) Writers are ordinary people who have a good story to tell.
Jerelyn:   I always wonder what a writer reads, beside research.  Do you have a favorite genre or author?
Helen:  It depends on what mood I am I, I tend to go for books that provide enjoyment but I don't have to think about too much. And an eye problem means I have to be selective with font size. At the moment I am reading some of Rosemary Sutcliff's wonderful novels.
Jerelyn:  I want to thank you personally for taking the time to do this, and for the donation of the signed book one of our members will no doubt be thrilled to receive it.
Helen:  My pleasure!
For more information on Helen Hollick, please see her website http://www.helenhollick.net
To connect with Helen Hollick on Facebook http://www.facebook.com/helen.hollick
To win an autographed copy of  a Helen Hollick book, leave a comment.  A winner will be chosen at random. Helen Hollick has generously offered to sign a book of your choice!