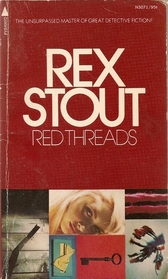 The Barnes & Noble website touts its e-book version as "An Inspector Cramer Mystery" as if Stout made the hard-boiled head of NYPD homicide a series hero. Cramer was never a series hero. Cramer usually played the flatfoot foil in Stout's classic mysteries starring the PI duo of Nero Wolfe and Archie Goodwin. And in this 1939 novel, he merely assists the heroine trap the perp.
This mystery contains the prototypical elements of a story from the so-called golden age of detective fiction. The reader catches a whiff of the spiritualism and mysticism that was common in the 20 years after World War I. The color prejudice – involving American Indians – is about what we would expect for the late Thirties. The whodunit snobbery is on display. The glamorous characters are well-off and famous in the arts, design and technology. The victim is a millionaire, killed in the ostentatious tomb of his wife, which is located on the grounds of his swanky country estate. As for the last check-box, what can we say about the prose:
He stopped, gazing at her, and put out a hand and took it back again. "No," he said. "I'm not going to plead with you. I did that, and what good did it do? But all the same, I won't tolerate it – what you're doing with Guy Carew. Now that the fortune is his – the wings for your ambition. I know you can do it – he's a half-primitive infant – may be you've already done it – but I won't tolerate it and I won't allow it. I won't, Portia! You're mine! By God, you are!"
Pee-yew, is what I'd say, but not unamusing in small doses. To be charitable, he wrote this in 1939, just after the excellent outing with Wolfe and Archie, Some Buried Ceasar. Too much to expect two home runs in a row.
On the credit side, Stout is an old-school feminist whose female characters work hard and enjoy success on their own terms. A textile artist and fashion designer upstages Inspector Cramer by using a peach pit, a red thread from an antique weave, and the call of a whippoorwill to solve the mystery. Stout's wife was in the cloth business so there's always smart references to fabric.
In the tradition of Golden Age mysteries, the reveal tests patience and credulity in terms of to what degree will we accept silly and over the top. I can recommend this one only to hard-core fans who have already read a fistful of Nero Wolfe mysteries and, bless us reading gluttons one and all, even reading an Alphabet Hicks or a Doll Bonner or a Tecumseh Fox.