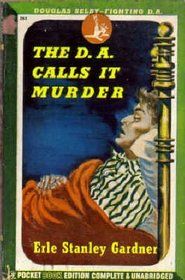 This is the first book featuring DA Doug Selby who appeared in nine mysteries from 1937 to 1949. It opens with Selby and his friend Sheriff Max Brandon flushed with victory in their recent election to office in Madison City, about 100 miles north of Hollywood. As Brandon is a faithful pard right out of pulp Westerns, Selby's GF Sylvia Martin is a typical Gardnerian heroine along the lines of Della Street: shrewd, ready for action, and devoted.
A corpse is discovered in a hotel. Besides getting involved in the homicide investigation, Selby takes up detecting duties to gather details about an envelope containing $5,000, a lawsuit over an estate, and a movie scenario of an unintentionally hilarious melodrama titled Lest Ye Be Judged (for us cynics who assumed Gardner didn't have satire in him). Also involved are a high-tech camera and a poisoned dog (take it easy – Gardner was a dog lover so the pooch is going to be okay).
Selby questions a movie star who lays a lot of New Age California woo-woo on him. Selby also comes within an ace of being hypnotized by the motion picture actress. The scene in which they come to an agreement about where their relationship is going will call to mind scenes between, say, Ida Lupino and Ronald Colman.
The subplots get tangled, the characters act improbably. Happily, Gardner's readable prose drives the story. We readers can always trust his stories to hustle.