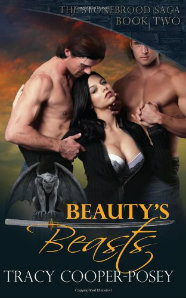 Review by Cynthia F. (
frazerc
)
This is an erotic ménage paranormal romance with all the trimmings: sex toys, a little bondage, a little anal and all the games that three people can play… Yeah, it's that kind of book – so if that sort of stuff [and the language that goes along with it] bother you – stay away!
The heroine is Riley, a somewhat battered survivor of the foster care system, who is suddenly confronted by two men who claim to be there at the request of her parents, the parents she knows nothing about. Of course they aren't really men but vampires who knew her parents – make that her killed-in-the-line-of-duty demon-hunting parents. Yeah, she's shocked too. They coax her to New York with them with promises of information about her family. Their goal is to train her and have her help them kill the gargoyles that killed her parents.
Admittedly everybody has issues in this book: Riley with being left to the foster care system, Nicholas with his walls around his heart, and Damien who wants to heal the breach with Nicholas and perhaps for them all to be together… For an action based plot there's a huge dose of relationship going on. There are definitely some hankie moments.
The sex scenes are well written, the relationships are intense, and the plot kept me going.  This is the second book in the Stonebrood series. I haven't read the first one – Carson's Night (only available as an ebook)  – which didn't seem to be a problem.  All in all a good read-once.