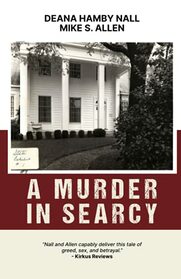 Fern Cowen Rodgers was murdered in her home in Searcy, Arkansas, on September 26, 1974. The townspeople were stunned because Fern and her husband, Dr. Porter Rodgers, Sr., were the aristocracy of Searcy. So they were particularly shocked to find out Mrs. Rodgers had two gunshots fired into her head. The writers gathered the facts from articles about the case, court documents, interviews, and other official papers. I was surprised that the trial went to court so quickly after the investigation (this story went from crime to court case in less than six months).
The authors followed the crime through the rabbit warrens of facts, lies, and innuendos. Because everyone knew everyone else's business (this is a relatively small town), the defense attorney went after one of the investigators because he found out that Sgt. Jim Lester had been reprimanded (by his superior) at about the same time as the case.
The three defendants were tried individually. The first trial was for Dr. Porter Rodgers, Sr. The defense provided a psychological reason that Dr. Rodgers had diminished capacity (he was 70+ years old at the time). The prosecution averred that the good doctor saw 900+ patients a month, prescribed meds, and treated patients in his office and the hospital. How could he be diminished?
Peggy Hale, Dr. Rodger Sr.'s love interest, had been given a deal where, if she was honest in her testimony, she could get "consideration" when her trial came up. Peggy was twenty-one to Dr. Rodger's seventy years. Dr. Rodger's attorney, trying to save his life, implied that Peggy and Berry (the second and third defendants) were cohorts trying to fleece an older man. The attorney tried to blame the whole thing on Peggy and Berry; he thought that no one would believe a 21-year-old woman would love an aged man.
The fantastic thing is that after the three trials, that was not the end of the story. Dr. Rodgers tried to get his conviction overturned for years. The authors tell the final chapters of each of the defendants. This is a very readable story that flows well throughout.