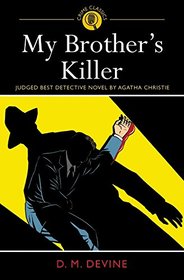 Though written in 1961, this English mystery uses to excellent effect the tried-and-true devices of whodunits during their Golden Age of the 1920s and 1930s. Think of Freeman Wills Crofts and his alibis, time-tables, and accounting for everybody's movements. No wonder Agatha Christie highly praised this story.
The mystery is told in first-person by Simon, the brother of the victim Oliver Barnett. Both brothers are solicitors in their family practice. Simon can't believe that, given his war record, Oliver could have taken his own life, as the crime scene seems to indicate. Both Simon and the Superintendent in charge of the investigation come to the conclusion it was murder. Instead playing the stock character of the thick flat-foot, Superintendent Garland, the lead detective, is as sharp as Simon.
Simon assembles a team to investigate murder. The narrative features the traditional plot twists and red herrings. As Simon and his mates peel the onion of Oliver's life, however, it's enough to make Simon cry to find out how many people would relish seeing Oliver roasting in his Eternal Just Deserts.
D. M. Devine (1920-1980), the Scottish author of 13 crime novels, was very popular in his time as a master of the classic detective story. This classic was re-released by Arcturus Publishing in 2012 as part of its program of re-issues of forgotten masterpieces.