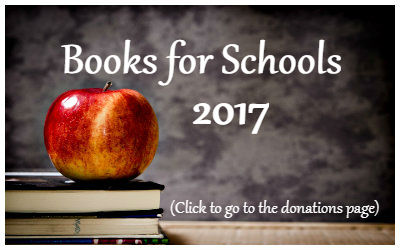 Thanks + Giving = Books for Children
Dear Members,
The 2017 Books for Schools Donation Campaign is nearly finished.  The last 4 schools are up and collecting donations of PBS Credits and PBS Money. This year we are hoping to give 10,750 books to 9 deserving schools across the county and we have almost reached our goal. Most of us can't imagine what a childhood without books would have been like. Please help us to get books in the hands of children and to share the love of reading with them. These are children who may never otherwise have a book to call their own. 
We have nine participating schools this year from all over the country, including a school in Florida that was affected by Hurricane Irma, a school in Texas that has taken on students displaced by the flooding from Hurricane Harvey, and a school in Queens that has a high percentage of its students living with nonparents, in foster or shelter situations. You can read more about each school on the Books for Schools page where you can also donate Book Credits or PBS Money.
It's the best kind of holiday glow…giving the gift of reading.
May your holidays be full of love and laughter and books!
Richard and
The PaperBackSwap Team