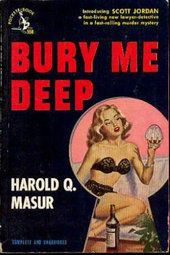 Woo-hoo, it's a humdinger of an opening scene. Returning from a business trip in Florida, lawyer Scott Jordan enters his New York City apartment. On his couch he finds a scantily-clad blonde, listening to his radio and sipping brandy from snifter. But Scott smells a rat and bundles the boozy beauty into a taxi. The honey turns up dead, embroiling Scott with iffy lawyers, snarky cops, dense bully boys, a rich girl that wants to be a Broadway star and her sleazy singing coach, a drunken bon vivant and his angry wife, a smooth villain, and a snow bunny. Scott also finds the love of his life. As if the cast of scores was not enough to grab and hold our interest, the episodic action includes poisoning, a fatal car accident, shootings, and assorted fisticuffs.
A contemporary critic summed up this novel with this telegram of a review, "Fast and tough by rote but played so effectively that it slips past the eyes." This is true. Like a noir movie from the same period, this mystery is simultaneously realistic and implausible. The hard-boiled characters strike familiar poses and their capers are pretty zany. The reader gets the feeling that in this first novel, the writer is jamming in every character and plot twist he can think of, in the most shiny prose possible. It's appealing as a glittering, fast-moving story. I won't remember it after a month.
Probably because I read two novels by Raymond Chandler before this one, I felt Chandler's influence on Masur. For example, Masur takes up Chandler-like dazzling expressions  – "Broadway had pulsed into neon-glaring night life. Swollen throngs milled restlessly with a rapacious appetite for pleasure. Box-office windows spawned long queues, and the traffic din was a steady roar in your ears."
Released in the same year as the notorious I, The Jury, this best-selling novel is regarded as "a cut above many of the American detective novels churned out at the end of the Second World War."  Masur later wrote nine mysteries starring lawyer Scott Jordan. Masur once described Jordan: "The series character, Scott Jordan, a New York attorney, was first conceived to fall somewhere between Perry Mason and Archie Goodwin . . . with the dash and insouciance of Rex Stout's Archie." Therefore, readers that like the novels of Rex Stout and Erle Stanley Gardner would like Masur's work.