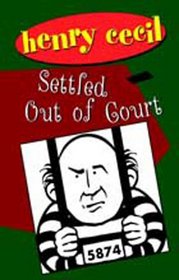 The English judge Henry Cecil (1902 – 1976) wrote comic legal fiction. Think of John Mortimer's Rumpole stories. Cecil is more intellectual and less acerbic, but just as clever, funny, and enjoyable.
In Settled out of Court, Cecil examines the odd case of Lonsdale Walsh. The wealthy self-made financier has been sentenced to life upon being found guilty of masterminding the hit and run killing of his business partner Adolphus Barnwell. In prison he turns his acute mind to getting out of his predicament.
Money is no object to him so with his daughter and a recently released pal Lonsdale arranges for a versatile crook to help him break out of chokey and kidnap a judge, two attorneys, the dodgy witnesses and Barnwell's feisty widow, Jo. Lonsdale's goal is to re-examine the parties and prove he was convicted on perjured evidence.
Henry James said that Ulysses S. Grant's memoirs had a "hard lucidity." Cecil's lucidity is light, with plain prose, dazzling dialogue, and difficult legal points explained gracefully and comprehensibly. Fans of courtroom fiction and dry English humor will enjoy this short novel.