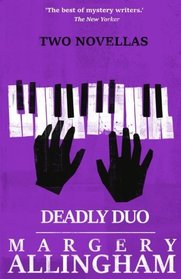 Deadly Duo
by Margery Allingham
Deadly Duo a.k.a Take Two at Bedtime was first released in 1950, this book collected two awkwardly sized stories. The first Wanted, Someone Innocent (1945) is a long short story about 80 pages and the second Last Act (1946) is a novella of about 115 pages so they were too short for a stand-alone book. The Bantam paperback I read says on the cover "An Albert Campion Mystery" but this is misleading because the series hero does not put in his gangling appearance in either story.
The first story has some familiar gothic elements: an unworldly pretty girl in distress, an atmosphere of suspense, and cold and unhelpful servants. Granted, it is not set in a castle, but the London house is still unsettling and the weather is grey and rainy.
Our heroine is 20-year-old Gillian Brayton, who was raised by her uncle after she was orphaned at a young age. She was gently brought up and attended a tony girls school but times have been bad for her since her uncle died after burning through his money. At a reunion of alumnae where she's supposed to tout her employer's hats, one of the mean girls Rita Fayre offers her a job so attractive that a penniless girl with nobody in the world couldn't dream of refusing. Though the duties of the job are unclear, she figures the annual salary of 300 pounds (about 17K in bucks) is better than working in a hat shop. Gillian is introduced to Rita's husband who is convalescing from a war wound. As we'd expect in a gothic tale, romance blossoms. There's a killing, though, and innocent as a puppy Gillian becomes the prime suspect. This is an interesting story, with good pace, witty writing but not arch or glib.
The second story, on the other hand, has some elements of the romance novel. The setting is an English country house, with a backdrop of entertainment and glamour. A beautiful clever actress gives her perspective on the story. The victim is a strong-willed older female, a veteran of the French stage and screen. Our actress feels giddily in love with one of the victim's grandsons, a medical student. Our unlucky pair soon become not husband and wife but the prime suspects in a murder. Allingham builds suspense, persuading us inexperienced readers that being falsely accused because of circumstantial evidence would be an unfortunate situation.
Fans of the cozy whodunit who don't mind Allingham's mashing of genres will probably like this. Other readers, sensitive to misogyny and gender stereotyping, may find these stories problematic.