The Northeast Kansas Local Chapter of PaperBackSwap (which meets in Topeka, KS) is small but active. We meet twice a month and do not have any set agenda, but mostly get together to talk about books, PBS, exchange books,  and anything else that 'trips our trigger'. We meet one Sunday afternoon a month at a local donut shop and one Monday a month for lunch.
At our October luncheon one of the members, Evelyn F (bluemoon2421) mentioned that she had taken some books for mailing to one of our Post Office branches, and mentioned that she really liked PBS because she still likes the "feel" of holding a book in her hands to read. She also told them that she has a friend who is blind and who reads lots of books on tape but her preferred method of reading is still holding a Braille book in her hands to read.
Then the clerk piped up and said "You can read Braille? We need help." Evelyn said that she did not read Braille but had someone in the car who could. They asked her to please bring her in. They needed help! They had several trays of talking books that belonged to the State Talking Books Library, with the labels written only in Braille that someone had dropped in the mailbox. Evelyn's friend, Nancy immediately knew what to do. She called the Post Office on the following Monday with the address of the State Talking Books Library in Emporia and the books were dispatched. They were very grateful.

Pictured below are some of the PBS members of the Topeka Chapter at their November luncheon. We always welcome anyone who would like to join us.  Pictured are  DeAnnette H. (deanie) (sitting);back row to her right is Linda B., standing in the middle back is Pat O. (PatinKS) and to her left is Evelyn F. (bluemoon2421).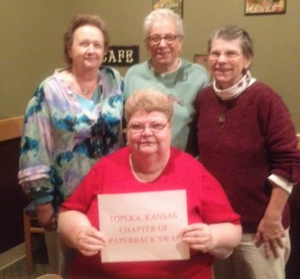 The Northeast Kansas PBS Chapter meets twice a month. We meet on the first Sunday of each month at the Baker's Dozen on SW 21st Street in Topeka, at 2pm – we call it Donut Sunday.
We meet on the third Monday of each month at Perkins Restaurant on Wanamaker at 11:30am for lunch.
We are always looking for new members so if you enjoy reading come join us for both meetings, if possible, and if not come when you can.