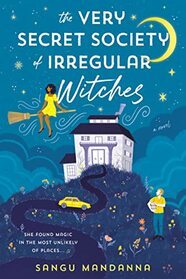 Review by Melissa B. (
dragoneyes
)
A simply sweet story about family, being who you are, and trusting others. It starts out a bit slow but gradually builds and before long, you are fully immersed into the story and into the lives of the characters. Almost to the point you don't want it to end.
Mika is a witch and a lonely one at that. She lives in a world where you have to hide who you are or take the chance of being persecuted. Even being with other witches is an impossibility as that much magic together can cause disaster. On top of that, all witches are orphans. So besides the "once in a blue moon" meeting the witches get together to have, Mika keeps a solitary life moving around and running her own website. When she is contacted about a teaching job for 3 young witches, she is hesitant but also curious. When she arrives at the home, she finds the caretakers consisting of Ian, Ken, Lucie and Jamie. Even though she has her doubts, she decides to give it a chance and finds more than a job within this warm, loving home.
The part that stands out in this book for me is the characters. They were the type that I just wanted to hang out with. Along with the story line, it was a very fun read. Would love to read another book in this series just to see the girls as they grow older.