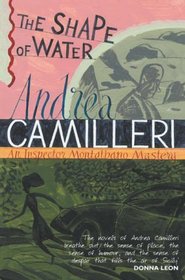 This is the first mystery that stars the series hero Commissario Salvo Montalbano. Set in Sicily in the early 1990s, the story opens with two garbage collectors discovering a body near The Pasture, a den of dope dealers, dope takers and prostitutes. The corpse in the BMW is local big shot Silvio Luparello, partly clothed but no apparent signs of suspicious death.
Indeed the local bigwigs seem relieved that Luparello's autopsy shows that he died of natural causes. They want him below ground as soon as possible. Montalbano is not satisfied because he assumes that appearances are always deceptive. He even comes around to thinking that surviving big shots want the silence over the death to resound, make people mutter about cover-ups, and thus bring Luparello's political faction into disrepute.
Camilleri didn't write puzzles so the mystery is not the main draw here. Amazing are the smooth connections between the interviews Montalbano conducts with his superiors and subordinates and persons of interest. The interviews run the gamut, from locker-room smutty to comical to profound (such as the deep explanation of the title).
Montalbano is a brilliant creation. He's a street-wise man of integrity who takes brave stances against supervisors, bishops, judges, mobsters, managers, land-owners, bureaucrats and all the other syndicates that want to keep The Little Guy down. But he's also cranky and short-tempered when he's hungry. Camilleri also includes pointed social critiques, drawing a straight line between the story and the centuries-long history of misgovernment, corruption, and exploitation in Sicily.
Highly recommended. It's amazing that from the very first novel in the series of 28 Montalbano novels, Camilleri determined what he wanted to do in the books and he did it successfully time after time. That he wrote all these books after the age of 69 should give us of a certain age heart.