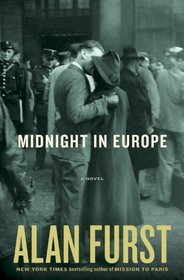 This 2014 espionage thriller is set in Europe between the wars. A refugee from the Spanish Civil War, Cristián Ferrar works as a lawyer for a prestigious law firm with clients in Paris, New York, and as far east as Budapest. The firm sympathizes with the Spanish Republic against Franco's Nationalists. Cristián is approached by the Spanish Embassy to procure arms on behalf of the embattled Republic, whose ostensible ally, Stalin's USSR, is not providing replacement parts and ammunition.
Unlike lots of heroes in spy thrillers, Cristián is not a combat infantry veteran or old hand in a tough-guy job like a walking boss of lumberjacks or manager of a heroin factory. He's just a quick-witted professional who does his duty when his government, his country, asks him to do his part. Furst has faith that ordinary people will step up to the plate when the going gets rough.
Cristián soon finds himself in various European cities with arms merchant Max de Lyon, who's been there and done that when it comes to gun-running. Furst convincingly portrays Berlin in 1938 as a place smothered by secret police. We readers are also convinced by the settings of the tough shipyards of Gdansk and low-class sporting houses in Istanbul.
The novel is divided up into episodes in which Cristián and Max have to call on all their smarts and resourcefulness. The best set-piece is the last, in which Max's confederates in Odessa manage to use Stalin's system of terror against itself and pull off an audacious heist. The climax involves getting the maguffin back to Valencia on a tramp steamer.
While there is not much shooting and stuff blowing up real good, it's gripping thriller material.