PBS Cooks is brand new– it just hit shelves in October 2009. Now you have a chance to win your very own copy just in time for Thanksgiving! We're giving away 1 cookbook a day for the rest of the week. (Nov. 17th – 21st)

To Enter: If you've tried one of the recipes from the cookbook already, let us know which one and how you liked it! If you don't have a cookbook already, post one of your own favorite recipes. We will randomly pick a winner each day from ALL comments posted. So you only have to comment once to be eligible all week long.
1. The cookbook winner for day 1 (Nov. 17th) is Dana L. (daltonryan) -Congratulations Dana!
2. Day #2 (Nov. 18th) Winner is "T." with the Pinto beans and cornbread recipe!
3. Day #3 (Nov. 19th) Winner is Debra H. with Crumb topped Blueberry Muffins!
4. Day #4 (Nov. 20th) The Winner is Marsha G. and her Briar Patch recipe!
5. Final Day #5 (Nov. 21st) Our Final Winner is June P. (JuneRose) with Cabbage & Noodles- Congratulations June!
Congratulations once again to our winners! Thank you all for participating in the Great Cookbook Giveaway!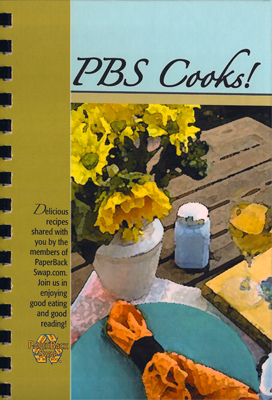 Be one of the lucky members to get the first edition of the PBS Cookbook! Over 200 pages of recipes submitted by PaperBackSwap members bound in linen-finish laminated hardcover with a comb binding. Authors: YOU. Edited by Sherry N. (royaltech). Assistant Editor: Elizabeth B. (Cattriona).  Illustrator:  Jeff & Carolee P.
In addition to all the great member recipes, there is a special collection of recipes by PBS' favorite authors, including:
Angela Hunt, Barbara Delinsky, Bertrice Small, Beverly Lewis, Carla Neggers, Charles David, Christopher Moore, Dave Barry, David Anthony, Diana Gabaldon, Elmer Kelton, Joy Nash, Judith Tarr, Julie Garwood, Karen Dinino, Ken Follett, Laura Fitzgerald, Linda Rosencrance, Linda Woods, Lisa See, Lisa Shearin, Margaret Atwood, Margaret Weis, Mindy Klasky, Philippa Gregory, and Rob Palmer!
Want a small taste of the Author Recipes?
Dave Barry's extremely challenging recipe
David Anthony's Crunchy Dragonscale Delight
Ken Follett 's Hot Dressed Vegetables
Margaret Weis' Pink Potato Salad
…and many more!
Good Luck on the giveaway, but make sure to get your order in before we run out!
Did you know we also swap recipes on PaperBackSwap.com? Check it out…  www.paperbackswap.com/recipes