We have a winner in the Cover Image Contest!  There were a lot of great designs submitted; thank you all so much.  The winning cover looks like this: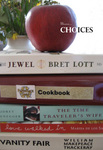 It was submitted by Jeff & Carolee P. and we think it is great!  (Jeff & Carolee submitted the runner-up, too.)
You can pre-order your PBS Cookbook in the Kiosk.  We are nearly ready to put in the order to have these printed; we're so excited.  Thanks to Sherry N. (royaltech) and all who have helped with this, for their very hard work!