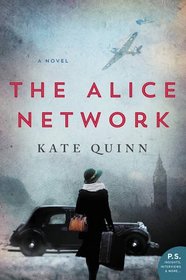 Review by Mirah W. (
mwelday
)
A friend recently recommended The Alice Network and I am so glad I followed her advice and picked up this book!
The Alice Network takes place in two different times, during World War I and just after World War II.  Charlie is searching for her cousin Rose, who disappeared during WWII.  There hasn't been word from Rose and her family believes her to be dead, but Charlie is hoping against hope that Rose is still alive.  In her search for Rose, Charlie meets Eve and Finn, Eve's driver and handyman.  Eve was a part of the Alice Network, a British female spy network, during World War I.  In the years since the war she was become bitter and isolated, drinking her way through most days.  What Charlie doesn't realize is that her search for Rose will overlap Eve's search for redemption and revenge for her experiences during the war.
I was immediately drawn into Quinn's novel. Organized into four parts, each chapter alternates between Charlie's quest in 1947 and Eve's life in 1915.  Quinn so easily gives all of the characters their own voices that the alternating stories and chapters are not confusing or convoluted.   I did find Eve's story to be more engrossing than Charlie's and I was always eager for the Eve chapters to see how her story developed; however, the chapters focusing on Charlie still impacted Eve's ability to reconnect with people and made her background all the more interesting.  I was emotionally moved by the novel and found the convergence of both stories to be seamless.
As with most historical novels, there were liberties taken by the author in the execution of the story she created. I enjoyed reading the Author's Note regarding her research and how actual events and people were depicted in the book.
If you are a fan of strong female characters and historical fiction, I highly recommend The Alice Network, which was both a New York Times and USA Today bestseller. For readability and interest, the interweaving of different character storylines, and delivery of the plot, I give The Alice Network 5 stars.  If you have read The Alice Network, please add your thoughts in the comments, I would love to know what you thought of the book, too!