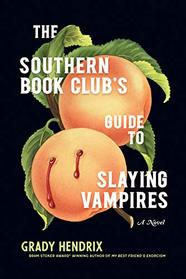 Review by Cyn F. (
Cyn-Sama
)
I think the southern Gothic setting just works for a story about vampires. The lush, dense heat of a summer night, and something rotten seeping into a otherwise perfect town. Maybe it has something to do with my first introductions to literary vampires was Interview With a Vampire by Anne Rice, and Lost Souls by Poppy Z. Brite. Of course, those books showed vampires in a sympathetic light. The Southern Book Club's Guide to Slaying Vampires takes the concept of vampires, and brings them back to their horrific roots.
Patricia Campbell's life is a small, quiet one. Her husband is distracted with his work, her children are becoming more and more distant. Her monthly book club is supposed to be a shining moment, a chance to get out of the house. Only problem is, no one wants to read the titles that are assigned.
Some of the disgruntled book club members decide to form their own book club, where they can read what ever they want. Including a boat load of classic true crime masterpieces.
Then, strange things begin to happen.
Patricia looses a large chunk of an ear to a rabid neighbor.
Intriguingly a stranger moves into the neighborhood, and children start to go missing. Is there a connection? Or have they all been reading too many sensational novels?
Being a bigger fan of novels where the vampires are the heroes, I was not sure I was going to like this book. I have to say, that I was a fan.
It was nice to go back to the roots of horror, and read something that creeped me out a bit. Plus, I loved the setting. I like seeing these supposedly perfect families succumb to the rot within. Most of the rot was there before there was a vampire, it just all rose to the surface the more these ladies investigated.
If the rest of Grady Hendrix's work is of this caliber, I will be seeking out more of his books.