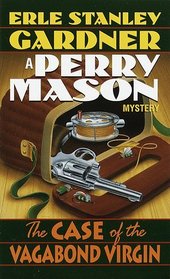 This 1948 Perry Mason story features plot twists and red herrings enough to keep the reader turning the pages until the startling reveal. In fact, some fans argue that it is one of the best Mason tales.
Department store mogul John Racer Addison hires Perry Mason to bail out a comely maiden named Veronica Dale. Addison had given hitchhiking Veronica a ride. Her hard luck story and her gorgeousness persuade Addison to call on his connections to get her a room, alone, in a quality hotel. Taking a walk on the streets, however, Veronica is taken to the cop shop to be booked on a vagrancy charge by a policeman who was concerned for her safety.
Things look up for Veronica when Perry gets her out of jail and she lands a job at Addison's department store in the hosiery department (remember those?). The worm turns though when blackmailer Eric Hansell gets a whiff of the incident and makes a beeline to Addison to take a chomp out of him. On top of Addison's trouble, moreover, his partner that he can't stand, Edgar Z. Ferrell, has bought a house out from under Addison in order to set up a love nest very near the culvert where Addison picked up Veronica.
When it rains, it pours.
Poor Ferrell is murdered without ever having a scene or a line. Addison is arrested for the crime. During the courtroom sequence, Mason makes sneering DA Hamilton Burger look a complete tool for reasons I can't possibly spoil in a review.
Written in Gardner´s clipped no-nonsense style, the story moves at a brisk pace. The plot is mildly complicated but doesn't approach the complexity of, say, The Case of the Cautious Coquette. I don't think Gardner believed his readers expected a lot of characterizations so he didn't spend time or space constructing detailed characters with deep motives. But for some reason the characters are exceptionally vivid in this outing, from series regular Sergeant Holcomb (ominous, mean, and out of control) to John Racer Addison (impulsive, irritable, and nervous).