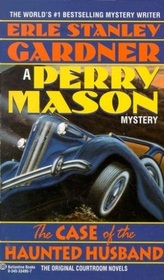 In this 1942 mystery, aspiring actress Stephanie Claire is fired from her hat-checking job after fending off her sleazy boss' advances. Brave Stephanie hitchhikes to L.A. to get closer to Hollywood and the breaks it might offer. In Bakersfield she is picked up by a handsome confident man in a big fast sedan. He's been at the bottle and offers her a pull so to keep on his good side she takes a swig. In attempting to make a move on her, the driver loses control of the car, which causes a multi-vehicle accident in which another man is killed. Stephanie is rescued from the wreck, at the steering wheel and with the liquor on her breath. The driver of the car has vanished. She faces a charge of negligent homicide.
Talk about one of life's dirty tricks.
Investigation reveals that the owner of the wrecked car is one Jules Homan, successful Hollywood writer and producer. He says the car was stolen. So Stephanie lands in trouble deep. One of Stephanie's friends persuades ace lawyer Perry Mason to take the case, which he is drawn to because he likes cases in which the little guy seems to be pitted against the rich and powerful. Gardner's view of Hollywood as ultimate company town rings true. Even the cops are afraid of their careers being stopped by its malign influence.
This is the background for one of the most convoluted Mason stories that Gardner ever wrote. Plot and incident abound. The writing is a little looser than usual with hints that are not followed up and conversations that don't move the story along. On the other hand, these extended conversations reveal Perry Mason's philosophy of life and death (he's a bit of a mystic) and Lt. Tragg's fair but fundamentally authoritarian personality. Della and Paul have a lot to do. Paul is his usual aggrieved self, Della is always game and smart. Ham Burger does not appear and the courtroom scenes are abbreviated.
This was written in the early 1940s, when Gardner was really on fire, churning out Mason and Cool and Lam stories at a rapid pace. Despite the quantity, I think quality did not suffer. I highly recommend this mystery to hardcore fans and green novices wondering why Gardner was the top-selling mystery writer of the 1940s.