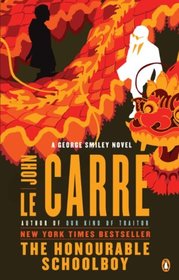 In 1977, this spy novel won the Gold Dagger award for the best crime novel of the year and the James Tait Black Memorial Prize.
After the unmasking of a 'mole', a Soviet agent in the London intelligence agency, George Smiley has taken over the leadership of the Circus. He is tasked to lead the department back to its old clout as it closes residencies and gets its spies out of harm's way – or out to pasture because their covert lives aren't covert anymore.
To do this, Smiley has to find 'Karla', the Soviet spymaster in charge of the relentless campaign against the Circus and all reasonable guardrails of western civilization. A money trail leads to what we called in the 1970s Indochina. Smiley sends an Old Asia Hand, Jerry Westerby, camouflaged as a journalist, to Hong Kong, where he investigates secret bank accounts – apparently set up by 'Karla' for Moscow to pay an agent of tremendous value in Red China.
Westerby travels from Hong Kong to every hot spot Indochina has to offer in the mid-1970s. In a painful set piece, in Saigon days before the withdrawal of the American forces, a bitter American military officer wants to shake Westerby's hand, since they are now both members of "second-rate nations." Westerby also delves into the heart of darkness with trips to Vientiane in Laos and Phnom Pen and Battambang in Cambodia.
Without a little knowledge of Southeast Asia and without reading the prequel Tinker, Tailor, Solider, Spy, a reader might feel lost in this big novel. But given these prerequisites are fulfilled, the many details do come together for an alert reader. The local color is amazing and persuasive; the reader can tell LeCarre visited the region to research this novel.
I think le Carré challenges his readers to trust him. That is, there are stretches in his long books where literally nothing happens. Even the characters start to get antsy in periods of inertia punctuated by periods of frenzy. On the other hand, he makes unpromising scenarios – interviews, in particular – brilliant character studies and primers on interrogation methods. So the story may be thin, but the suspense is compelling. In LeCarré novels, the last 100 pages or so are always un-put-downable.