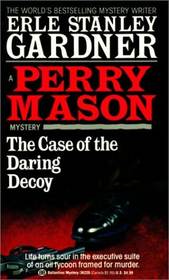 It is 1957. Oil Man Jerry Conway is embroiled in a proxy fight with an ex-employee Gifford Farrell. We know Farrell must be a cad because he has a debonair manner and a pencil-thin moustache. Jerry stumbles into a trap involving a room in a threadbare hotel, a beautiful woman dressed in not much more than a mudpack. Hubba – as they used to say – hubba.
Rosalind – she of mudpack fame – coughs up a recently fired .38 to Conway before he hustles the heck out of there. Jerry high-tails it out of there. Driving away, he discovers one bullet has been fired from the .38 caliber revolver. Feeling legally vulnerable, he calls super-lawyer Perry Mason's answering service.
Later in the same hotel room Perry and his PI Paul Drake discover the body of an un-mudpacked woman with a bullet in her chest, fired – of course – by the same gun. Mason phones Homicide and confuses the desk clerk with questions just for good measure. The obnoxious SGT Holcomb stomps his way in, suspiciously asking questions that assume Mason is guilty of something. Mason criticizes him for asking questions when he should be securing the murder scene. It's a nice contrast to the usual unfailingly polite Mason on TV.
Is the frame-up of Jerry perfectamundo? With frank and inhuman glee, will DA Hamilton Burger hang a rap of accessory to murder on Perry?
As always, Gardner indulges his penchant for giving characters odd names. We get Norton Barclay Calvert, Dr. Reeves Garfield, Evangeline Farrell, and the melodious Myrtle Lamar. Another distinguishing point is that Della Street appears in only a couple of scenes – sad for us Della fans – but the one with a chivalrous Perry is a humdinger.