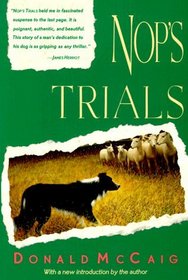 Review by Cyndi J. (
cyndij
)
NOP'S TRIALS by Donald McCaig is a story about a man's love for his dog. Rest easy: the dog does not die. But if you have a heart you will cry.
Lewis Burkholder raises cattle and sheep on his farm in Virginia. Like most, he has a dog to help him move the stock around.  Nop is a promising young Border Collie, and Lewis has high hopes that Nop will become not just indispensible around the farm but a competitor in stockdog trials.
On Christmas morning a covetous neighbor sees Nop near the road and scoops him up. Thus begin Nop's trials – as he is passed from person to person, some of them kind and many of them not.  Border Collies are the most intelligent of dogs, and Nop has to use everything he knows to survive.
Lewis is a man of few words and doesn't express emotion easily. He will not and cannot believe his dog is gone forever. He has an idea about the person who took Nop and he starts there. It's going to be a tortuous path, tracing down every lead, and he's still got a farm to run.
How Nop works to save himself and how Lewis finally finds him is suspenseful, emotional and heart-wrenching.  McCaig knows the life of a farmer like Lewis and depicts it with loving detail.  Lewis and Nop are the star characters and the reader will get to know them quite well.
This isn't always the easiest book to read. The things people do to dogs and other animals can be difficult to read about. But there are moments of grace too. Nop's courage and Lewis's steadfast loyalty and determination shine throughout. It's not a fast, action-filled read, but it moves ahead with a steady pace, so take your time. I promise you will feel joyous at the end.