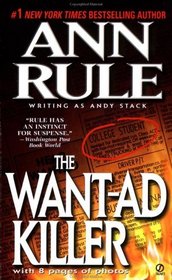 This is an earlier Ann Rule novel, before the time of fancy forensics and DNA. Harvey Carignan was apprehended in 1974, and this book was first published in 1983. Ann Rule molded the true crime novel into what it is today. Her careful attention to detail and explanation of the victim's feelings evokes sympathy and compassion in the reader. Perhaps the author chose this title because it was catchy, but most of Harvey Carignan's victims were opportunistic, not solicited by the newspaper.
Harvey considered himself to be brilliant and far more intelligent than any policeman. He ensured his victims were found in different areas of the state (Minnesota) or other states so his trail would be hard to trace. He knew different police departments had limited interaction with each other (at that time). The book's first part explains Harvey Carignan's rageful and violent attacks on women. Some of the descriptions are absolutely unbelievable. It is stunning that a human could survive such punishment. Then, the author takes readers through the trials.
Minnesota law limits a person's incarceration to 40 years. During the second trial (for additional crimes), the judge complained (!) that Carignan had already been convicted and sent to prison for 30 years, so what was the point of spending the money to heap more time when the limit would be another ten years?
The prosecutor explain that the purpose was two-fold. The victims needed to have their day in court and when Carignan came up for parole, having multiple sentences would give parole boards pause before they decided to release the man. However, the second jury gave Carignan another 30 years in prison!
The third trial for the death of Eileen Hunley (whose only crime was trying to lead him into religion and deciding that she did not want to be his girlfriend anymore) ended in a conviction. Now he had a prison sentence of a total of 100 years plus life. Unfortunately, they would run concurrently; he could seek parole after 17 years. The Minnesota Supreme Court listened to his appeal in 1977 but unanimously upheld Carignan's conviction.
 It is unknown precisely how many women Harvey killed. The range offered is between three and more than five. This book recounts five murders (and convictions) and more than three violent attacks. However, it is expected that there were more that were never found. Incredibly, Harvey Carignan is still alive today. He is 95 years old and still in a Minnesota maximum-security prison.