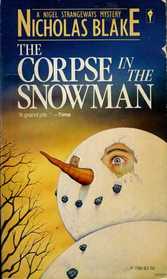 This novel is set in the dramatic winter of 1940-1941, the beginning of WWII. The story begins when Nigel Strangeways, Blake's series hero, is invited by a relative of his wife Georgia to investigate a case at the country mansion of the Restorick family, the quality of the place. The strange behavior of the family cat has necessitated the services of a detective. It seems the cat, during a séance, behaved in a way weird and unsettling even for a cat, attacking with ferocity something that was not there.
Strangeways is introduced into the Restorick mansion as a parapsychologist, but soon he is forced to resume his true identity as a private detective, after the beautiful, vain, shameless and deeply troubled Elizabeth Restorick, the younger sister of the host Hereward Restorick, is found hanged in her room.
Strangeways wonders whether her apparent suicide is in fact premeditated murder. Teaming up with his usual sidekick Inspector Blount, he explores the possibilities with the suspects being a bland psychiatrist from London who has been treating Elizabeth, a novelist with a proletarian background and a jealous flighty friend.
Nigel Strangeways' wife Georgia is an explorer, an unusual avocation for a woman in those days. They discuss the case in terms that Nick and Nora Charles would use if Nick and Nora Charles had had classical educations at Oxford. Another interesting character is Clarissa Cavendish, former don whose specialty was 18th century England, who refers to the Georgian period as "my day." Last but not least, we have among the characters two nice and spontaneous children. The reader can tell that Day Lewis, both a parent and school master, knew children and their ways.
Nicholas Blake is the pseudonym with which the illustrious English poet Cecil Day Lewis (among other things, the father of the actor Daniel, who played Lincoln and Chingachgook) wrote a score of detective novels for the steady source of income. His mystery novels are much appreciated by discerning readers who like a little heft with their whodunits. That is, the readers of Michael Innes, John LeCarre, Dorothy B. Hughes, or Patricia Highsmith.