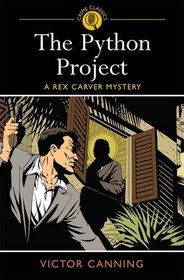 Only a rich person that goes for an elephant foot umbrella stand could love the python bracelet. Antique. Gold. Diamonds for eyes. Emeralds for scales. Creepy and corrupt, it has been stolen from its rich widow owner. The insurance company hires private investigator Rex Carver for its recovery.
Carver soon discovers that the thief – the ne'er do well brother of the rich vamp – has disappeared. Carver cajoles his partner, Hilda Wilkins, and her BF Olaf the Swede Sailor, to spend some of their vacation time around Mediterranean doing some investigations. Some early chapters vividly conjure places like Italy and Libya, an accessible place when this story was released in 1967, not so much after 1969.
After Carver locates the bad hat brother and his sleazy partner, however, the game changes completely. He enters the murky world of spies where all the heavy-hitters, no matter what side they are playing on, are cold-hearted bully boys and tough girls, jailers, torturers, and executioners. Canning held a view of espionage as dim as John le Carré's, but Canning is not as solemn about it. The series hero Carver is not hard-boiled or full of angst, but impudent and irreverent in that winning way the English and Irish do so amusingly.
Rex Carver starred in four fast-paced adventure stories, all released between 1965 and 1968. This was Book 3. Carver occasionally works with Richard Marston, who was the hero of The Limbo Line (1963). Though one would expect Cannings' book to be long out of print, in fact the Arcturus Press has released this story and The Whip Hand.
Canning was a Silver Dagger winner and named a Grand Master by the British Crime Writers Association. Read him and save him from becoming a neglected writer.