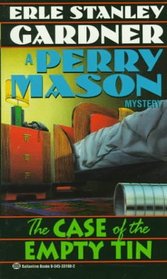 I highly recommend this 1941 Perry Mason mystery. Usually Mason novels start in the lawyer's office or a public place where a client can button-hole him for legal advice. But this one starts in the cozy Gentrie household. The family owns a small hardware store so they have to watch every cent. They take in a roomer for extra income. They can preserves to save money on food. They depend on both a spinster sister and hired woman to keep the housekeeping and cooking in order for the three active kids. It has its share of strains but what family doesn't?
I suppose a certain kind of Mason fan will find the beginning slow, but as a hardcore fan who's read a couple dozen of them, I'm relieved when it starts out in a different way. Also, in a way that brings to mind Alfred Hitchcock's making the mundane suspenseful, Gardner puts the typical middle-class family in the center of the mystery.
Other elements make this mystery outstanding in the canon. Mason blithely breaks the law with lying to police officers, house-breaking, and flouting traffic laws with reckless driving and speeding. Della plays a much bigger role, helping Perry break into houses and elude the law. She also helps Perry think by asking germane questions and introducing points that women know but men have no clue.
Remember that this novel was probably serialized in the weekly magazine Saturday Evening Post before it was published between two covers. Therefore, there is a certain amount of recapitulation in the dialogue to get new readers up to speed. We post-modern readers can skim these sections.
Finally, there is no courtroom sequence in this one. This may disappoint some fans and elate others. My bottom line is that this should be the next Mason you read if you're a fan.