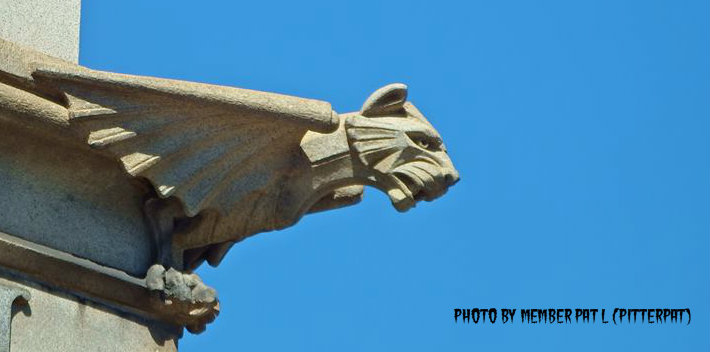 Happy Hallowen by Cheryl G. (Poncer)
I have always been fascinated by Gargoyles and Grotesques, those stoic stone monuments guarding buildings and cemeteries day and night, night and day. My fondness has resulted in friends taking photos of the creatures they discover and send me the photos. Like the one above by fellow member Pat L. (PitterPat), took on a photo tour of Oakland Cemetery in Atlanta.
It was previously thought that gargoyles came into being in the 13th century, when Gothic Architecture was just beginning. But there is evidence that ancient civilizations, such as the Greeks and Egyptians used Gargoyles on buildings, too.  Originally, Gargoyles were mere water spouts, a way to divert rain water away from buildings and their foundations. So the true definition of a gargoyle is a decorative water spout. Grotesques are purely decoration, with no practical purpose but to scare away evil spirits.
It is believed the Catholic Church used gargoyles and grotesques as a way to spread their theology to the mostly illiterate pagan population. After all, a picture paints a 1000 words.
Whether a gargoyle or a grotesque, sometimes called chimera, this art form is fascinating to me.
And a quick search through books currently posted and available for swapping gave me a plethora of choices. Below are some books relating to Gargoyles.
The Gargoyle by Andrew Davidson

The narrator of The Gargoyle is a very contemporary cynic, physically beautiful and sexually adept, who dwells in the moral vacuum that is modern life. As the book opens, he is driving along a dark road when he is distracted by what seems to be a flight of arrows. He crashes into a ravine and suffers horrible burns over much of his body. As he recovers in a burn ward, undergoing the tortures of the damned, he awaits the day when he can leave the hospital and commit carefully planned suicide–for he is now a monster in appearance as well as in soul.
A beautiful and compelling, but clearly unhinged, sculptress of gargoyles by the name of Marianne Engel appears at the foot of his bed and insists that they were once lovers in medieval Germany. In her telling, he was a badly injured mercenary and she was a nun and scribe in the famed monastery of Engelthal who nursed him back to health. As she spins their tale in Scheherazade fashion and relates equally mesmerizing stories of deathless love in Japan, Iceland, Italy, and England, he finds himself drawn back to life–and, finally, in love. He is released into Marianne's care and takes up residence in her huge stone house. But all is not well. For one thing, the pull of his past sins becomes ever more powerful as the morphine he is prescribed becomes ever more addictive. For another, Marianne receives word from God that she has only twenty-seven sculptures left to complete–and her time on earth will be finished.
3.9 stars, based on 78 ratings of PaperBackSwap members
In the Shadow of the Gargoyle
Nancy Kilpatrick (Editor), Thomas S. Roche (Editor)
For centuries, they have watched over us. Leering from the arches and peaks of ancient cathedrals. Spreading their wings across hallowed doorways. Even decorating our homes in stony, silent elegance. Are they angels or demons? Sacred or profane? In the Shadow of the Gargoyle features fifteen original stories and two classic tales of the legendary gargoyle. The contributors range from bestselling masters to the hottest newcomers — award-winners, artists, musicians, and, yes, gargoyle collectors. Each of them experts at drawing blood from a stone… Contributors include:* Harlan Ellison * Neil Gaiman * Katherine Kurtz * Brian Lumley * Jane Yolen * Charles L. Grant * John Mason Skipp * Nancy Holder * Alan Rodgers * Lucy Taylor * Jo Clayton * Don D'Ammassa * Christa Faust * Robert J. Harris * Brian Hodge * Caitlin R. Kiernan * Marc Levinthal * Melanie Tem * Wendy Webb
3.8 stars, based on 3 PBS Member's ratings  (this one is currently on the way to me!)


Song of the Gargoyle by Zilpha Keatley Snyder
A strange sound awakens thirteen-year-old Tymmon  in the dead of night. In a blink of an eye his  father, the court jester of Austerneve, is  mysteriously kidnapped and the terrified boy must slip away  secretly to avoid capture  himself. — Hiding in the dreaded forest nearby, Tymmon is adopted by a huge, furry, dog-like creature–a  gargoyle–who has the loyalty of a dog and the fearsome  powers of an enchanted  being.
Together, hungry, the two make their way to town, where Tymmon earns a living by playing his flute and learns to be happy. At least as happy as he can be  without his father. Will he ever find a way to  rescue him and be with him again?
3.7 stars, based on 3 ratings

St Patrick's Gargoyle by Katherine Kurtz
From his perch high above the bustling Dublin streets, a gargoule named Padraig keeps watch over his beloved city. It was once beautifully elegant, brilliantly sacred. But now something has changed. He can feel it… — On a bitterly cold December night, vandals break into St. Patrick's Cathedral. Paddy melts into the darkness in search of revenge-but nothing could have prepared him for the evil that descends when he finds it…
3.6 stars, based on 27 ratings
Geis of the Gargoyle by Piers Anthony
Since Xanth began, the gargoyles of that magical place have been under a magical compulsion to protect the purity of the Swan Knee River which flows in to Xanth from dreary Mundania. But recently the pollution from the outside world has grown ever greater, and young Gary Gar, latest in a long line of gargoyle guardians, is finding it ever more difficult to fulfill his responsibilities.
So Gary does what any sensible Xanth resident with a dire dilemma would do. He goes to see the Good Magician Humfrey, who sends him on a peculiar quest–to transform himself into human shape, tutor a precocious child with more than her share of wild magical talents, and find a philter which can restore the river to its previous pristine state.
4.1 stars, based on 110 ratings
And then there is this adorable children's series by Philippa Dowding, but alas, none are currently posted. The Wish Lists aren't very long though.
So here's wishing everyone a safe and happy Halloween, and remember to look up. You never know when a gargoyle or grotesque may be looking down at you.