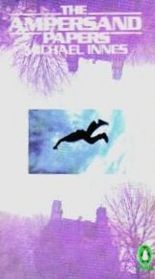 In this 1978 mystery, series hero Sir John Appleby, retired from Scotland Yard, comes in only after the author has introduced us to Lord Ampersand and his peculiar and confrontational family. Sir John is taking a stroll along a Cornish beach near the Ampersand castle when a body plummets down from the North Tower and almost lands on his head. A speleologist suitably named Cave also happens to be on the spot.
The presumably unhappy corpse turns out to be that of Dr. Sutch, an academic who has been hired by the Ampersand family to go over the family papers. The family has found out there is good money to be fetched in papers and letters about and from luminaries Shelley, Byron and Coleridge. Dr. Sutch is also getting to the bottom of a family legend that posits the existence of a treasure from a Spanish argosy in the time of the first Elizabeth.
As in the other late novels in this series there are plenty of incidents. If you thought the portrayal of aristocrats in Trollope is mean to the land-owning classes, you haven't read Innes. Lord Ampersand loves routine to a fault and knows absolutely nothing about his own ancestors. The conversation between Sir John and Lady Ampersand about her husband's feuding family, while the Lady works on her jigsaw puzzle, is the high point of the novel; this is a good thing to say, believe me, because the dialogue is so witty.
The kind of reader that would like these mysteries is the kind that likes Josephine Tey and Nicholas Blake or who likes genre fiction between serious books.