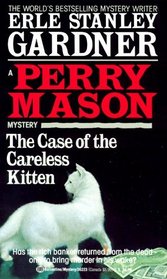 by Erle Stanley Gardner
This 1942 novel is an authentic Golden Age mystery. It is a strong outing, as many of his novels written during WWII were, well-written with a solid plot and an inventive solution, both of which balance deprecating references to the adversary country of Japan.
In 1932 eminent banker Franklin Shore disappeared in the traditional mysterious circumstances, leaving behind ornery Matilda, a wife with cheatin' on her mind and an adoring 14-year-old niece, Helen Kendal. A decade later he suddenly gets into contact with the now grown-up niece. He tells her to bring Perry Mason to a confab but at the meeting, a man, not Franklin Shore, is found dead, shot through the head. Though Helen has no connection to the murder victim, the police charge her with the murder so she naturally hires Perry to defend her.
The roof really caves in on this unlucky family. Helen's cat and then Aunt Matilda are poisoned with strychnine. Both pull through. Lt. Tragg is put out however, when he finds the kitty under wraps in the apartment of Della Street, Mason's devoted and intrepid secretary. He arrests Della because Mason's foe, D.A. Hamilton Burger, has convinced himself that Della also knows the whereabouts of Franklin Shore. He charges her for concealing a material witness thus obstructing justice.
Perry, Della, and Paul thus get involved in a case that registers 7 Strands on The Tangled Web Meter. Mystery writer and critic Jon Breen calls this one "one of the best pure detective novels [Gardner] ever wrote."
It's also well worth reading because Gardner has Perry vigorously defend what Burger calls "theatrical interludes" and "courtroom flimflam." Mason argues constitutional protections have been slowly undermined by cops, prosecutors, and judges, raising the prospect of the government using the law and its criminal justice system as tools of political oppression. Doubtless, Gardner, a lawyer for 15 years before he became a writer, was using Mason as a mouthpiece here, warning us that fear and war frenzy eat away at the rights of citizens. Mason makes the argument that lawyers are obligated to use whatever legal means are necessary to defend the individual fighting a system run by folks who seem to assume civil rights are a nuisance that protect the guilty.