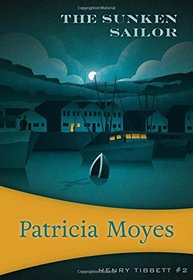 The Sunken Sailor by Patricia Moyes

(aka Down Among the Dead Men)
This 1961 mystery was the second novel starring series hero Henry Tibbett, a Chief Inspector of Scotland Yard and his wife Emmy. By chance they meet a couple whose hobby is sailing so they go on a short vacation with them on England's East Coast. The hamlet is haunted by a recent death and a jewel robbery from the local baronet's mansion. Two additional killings occur, thus causing Henry to forget his vacation and put on his deer-stalking hat.
When I read stories in which things nautical loom large, I rather bleep over the maritime mumbo-jumbo of tides and sails. Moyes needs the reader to understand a few technicalities of sailing to understand the unfolding of the plot. So at the beginning careful attention to new terminology and concepts on the part of the reader will pay rewards. But putting on the thinking cap is called for. Moyes later was more effective – i.e., less demanding of the reader – in setting her Tibbett stories in specialized settings such as the world of fashion, a movie set, an international convention, and an old air base as substitute for a country house,.
The various characters are smart, articulate, and amusing. Moyes was a cozy-writing traditionalist so she is careful with little details that add up to big reveals. Motive is usually love or money or avoidance of shame and embarrassment. She is rather retro in attitude. For example, Henry confidently asserts that no woman keeps a secret indefinitely, with no spirited opposition from any of his female listeners or caveats about how gossipy men can be.
This is worth reading for true fans of Moyes, but for novices the later ones, such as the late career Night Ferry to Death, are better.
Tags: Book Reviews, Book Suggestions