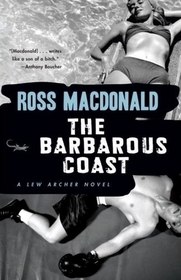 This 1956 mystery calls to mind hard-boiled PI novels by Raymond Chandler. It features series hero private detective Lew Archer. He is hired to find a Toronto man's runaway wife. She has star-struck dreams of becoming an actress but the husband is annoying enough that we readers suspect she just wants to get away from him for good.
The husband getting in Archer's way is hardly Archer's only problem. MacDonald was a writer who returned to the theme of the past refusing to stay in the past. Earlier misdeeds haunt the present in the form of blackmail and an unsolved murder. And several more deaths occur in the course of Archer's investigation.
The barbarous beach is Malibu, playground of the rich, but this is not as important as the web of relationships in the novel. The characters are a movie studio mogul and his somewhat schizoid wife who has quite a few proteges; a thug; a Latin lover posing as a movie star; the runaway wife's mother and sister who is a presence though she is among the dearly departed; the director of an elite club in Malibu; the doorman of the same club, who is the Latin lover's uncle. And so on. Despite the large cast, the case is not hard to follow.
Archer goes from one person of interest to the other and tries to put the pieces of puzzle together despite being conked on the head three times. The reveal is a model of economical writing and plausibility.
Recommended, especially for Macdonald fans.