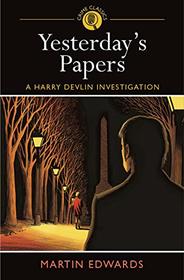 The fourth of eight mysteries starring Liverpool lawyer Harry Devlin was released in 1994. The author is a mystery writer who respects the traditions of the Golden Age of Whodunnits. So though set in the Nineties, this mystery has a steady rhythm and red herrings typical of the "corpse in the library" type of Golden Age mystery by Christie, Sayers, or Allingham. Also in the tradition: the surprises are great and the stilted dialogue is pleasant in its awkwardness.
Basically, our hero Devlin's task is to investigate a cold case. Tall but bent over due to excessive reading of true crime, Ernest Miller asks the well-known lawyer help him solve a crime that took place thirty years earlier, in 1964 during the heyday of the Four Mop-tops and Liverpool swings like a pendulum do. Miller claims the wrong person had been accused of the terrible strangulation murder of a teen-aged girl, convicted on a false confession, and then killed himself in jail before he could be hanged.
Devlin thinks it's a long shot, but he agrees to read the lawyer's file on the accused and interview people of interest that are still among the quick in Ireland's Second Capital. Devlin compares and contrasts the various testimonies and tries to clarify attitudes and emotions obscured by the passage of time. While recognizing the pointlessness of his task, since it is now impossible to undo the mistakes caused by the vagaries of human behavior, Devlin wants to get to the bottom of the story to discover the truth. The only thing left is to restore the reputation of those who have been unjustly blamed.
Recommended, it stands as a readable mystery because it mixes elements of the classic and modern mystery.