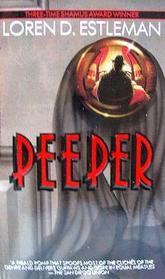 Peeper
by Loren D. Estleman
In this 1989 parody of the late Eighties hard-boiled detective novel, main character Ralph Poteet is a drunken, thieving, conniving sleaze of a PI. He's not a sociopath like the protagonist in a Jim Thompson novel but he can't help but make the wrong choices that only make the situation worse for himself and others. Through a combination of bad luck and sheer stupidity, he finds himself suspected of murder and arson.
The language is often pretty foul. The jokes are guy-oriented, which means the reader might feel coarse and crass in still finding them funny in our more enlightened era of 2023. If readers take the goings-on too seriously, they may feel sad, especially if they remember Detroit bleeding population and businesses in the Eighties.
But readers of a certain age will enjoy the references to Eighties pop culture such as Brooke Shields, Popeil's Veg-O-Matic, and what I suspect is a fictitious long-playing album called "Slim Whitman Yodels Songs of Faith." Readers like me who know SE Michigan and feel a sentimental feeling anyway will like the nod to the Uniroyal tire on eastbound 94 in Allen Park (no giant Presto Whip cans in Dearborn on Telegraph because they were removed in 1983 – an unhappy day indeed).
I've been reading Estleman for about 30 years and enjoyed the PI Amos Walker books in the 1990s. This book is a successful attempt to parody his own character. But he still manages to develop an original character and surprising twists and turns of plot. Unlike most comic mysteries, it does not feel too long by the end. Its incidents are darkly humorous but overall the hard-boiled genre is mocked for its pretentions and cynicism, especially in terms of its portraying the world as more unfair, uncaring, and corrupt than it really is.