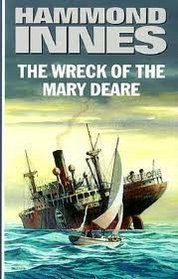 This 1956 mystery and adventure story gets off to an exciting start. One cold March night, in the English Channel, the three-man crew of the yacht Sea Witch doesn't have enough on their hands dealing with a rising gale. They look up see the Mary Deare, a 6000-ton freighter, looming over them, almost capsizing their yacht. The skipper of the Sea Witch – our narrator – boards the Mary Deare, but finds that she has been abandoned by its crew.
The only one aboard is the captain who is half-crazed with anxiety and lack of sleep or chow. The Sea Witch's skipper gets some information out of him, such as the desperate actions the captain took to put out a fire and keep the freighter floating. But more will have to come out during the tense courtroom scenes later.
This book was a best-seller when it was released in the middle Fifties. It gave Innes, a British writer, a solid reputation as a writer the reader could trust for an imaginative and well-crafted tale of suspense and adventure. He always presented a mystery to solve, too. Innes creates plausible characters who are human beings, not super-heroes. Counterparts in his own time were Geoffrey Household, Victor Canning, and Alistair MacLean and in our era James Rollins and Clive Cussler.