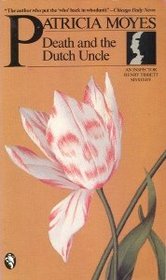 Released in 1968, this is the eighth mystery starring Henry and Emmy Tibbett. Having recently been promoted from Inspector to Superintendent, Henry is getting used to his new duties and his office in New Scotland Yard bit by bit.
A petty hood who worked in hotel kitchens between temping on individual heists gets himself shot dead in the restroom of a private bar. Henry is assigned to the investigation.
It happens, however, that Henry and Emmy host a dinner with the brother of the victim in Death on the Agenda. Gordon Trapp is suspicious over the sudden deaths of two judges on an international board which adjudicates border disputes between countries. He tells Henry the two judges were to vote on a case between two newly independent African countries. I'm giving nothing away because the veteran reader of mysteries already knows the two sudden deaths turn out to be murders.
Because Henry and Emmy find themselves immersed in an international conflict, this feels more to me like an out-and-out thriller than a detective story. Though stable middle-class people, the Tibbets didn't mind getting into breathless action. So this thriller reminded me of Margery Allingham in Traitor's Purse or Nicholas Blake in Smiler with a Knife or Victor Canning in The Python Project.
Moyes was a traveler so sometimes her mysteries are set in England touristy areas or foreign climes. For instance, Down Among the Dead Men had the backdrop of sailing on England's East Coast and Dead Men Don't Ski was set in the Italian Alps. This one is set in rural Holland with scenery and houses rendered vividly. Moyes' second husband was a linguist, so the character of the interpreter Gordan Trapp is persuasive.
There's a diverse variety of people and places in Moyes' books that makes them different from many mysteries. But she still retains the deft characterization, plot twists, exciting climaxes and surprising reveals that we like in traditional police procedurals, before whodunnits got socially conscious, regional, lengthy and dark in the Seventies.