Dear Members,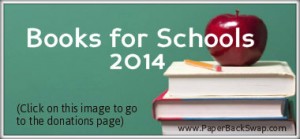 So many of you have asked when our school donation program will launch again – we're happy to announce that Books for Schools 2014 is now live!
Each year PaperBackSwap, through our generous members, donates brand-new books to selected deserving elementary schools across the country.
The goal of the program is to provide children with books that they can read for pleasure. Most of us in the club learned the love of reading at an early age, and this is a great opportunity to share that joy. In the past three years PaperBackSwap and our members have donated over 70,000 new books!
Last year, we reached our goal of 25,000 books sent to 24 deserving elementary schools. Check the details of last year's recipient schools to see wonderful photos of the children receiving the books (here is an example from last year), and see their thank-you cards. If you know of an elementary school in need, suggest it here and we will consider it for our next Books for School donation drive.
Your donation of credits and/or PaperBackSwap Money (which is used to defray some of the shipping costs) or both help us to put books in the hands of children. Together PaperBackSwap and our wonderful members do make a difference!
Most of the participating schools this year are large, with enrollments of between 400 and 700. The school roster includes a special-ed school in AL, and a school in WV that does not actually have its own library – the local library they visit weekly has stepped up to collect and distribute books to the students (bravo to them for helping with this)!
And those of you who read the blog post about our visit to the Belize Children's Home might want to look in on the Adopt-a-School drive for the abused and abandoned children who are being lovingly cared for there.
Thanks in advance for your help – the kids really appreciate the books!
Richard and
The PaperBackSwap Team
Tags: Books for Schools, Donations