By Richard Pickering, PBS Founder
I knew that the 2014 PaperBackSwap Cruise would be a great time to meet club members, participate in book-themed events, and share in our love of reading. It was going to be fun (and it was)! But I never expected that our itinerary held an event that would affect me deeply.
As the cruise ship pulled into Belize, I was informed that there was a surprise event scheduled, in which I would be needed to participate.  "Dress appropriately, as a representative of PaperBackSwap," Cheryl G. (Poncer) said. That was all I was told.
About a dozen of us —PBS members and some staff — got off the boat and made our way to the taxi stand, where we boarded a van that whisked us away. As the roads became bumpier and turned from asphalt to hard-pack dirt and stone, my curiosity mounted. "Where are we going?" I asked. The rest of the group smiled knowingly, and Cheryl G assured me that this would be an adventure that I would never forget for the rest of my life.
We headed into the heart of the country, passing small farms and an occasional building that boasted some small trade or service for the local population. Finally the van slowed, and the driver leaned out the window to ask directions. We were in the middle of a very rural area – I could see thatched roofs around us, and I learned later there was no running water and almost no electricity. We were in the proverbial "middle of nowhere."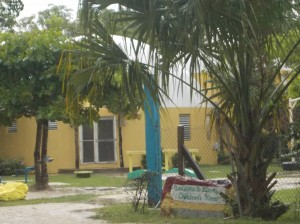 The van turned down one last dirt road. There was a gate at the end, and beyond that, the building that was apparently our destination. Finally, I was let in on the secret: this was a small orphanage, home to 42 children whose parents had died of AIDS.
The staff greeted us with open arms and thanked us for coming.  Many of the older children were in school, but the younger ones were there, and anxious to meet us.  We went into the day care center, which was very clean and nicely appointed. The high ceilings and fans kept the room cool, and the walls were covered with drawings that the children had made and gold stars for good behavior or outstanding scholarship.
Another surprise! The group (led by Gail P.(TinkerPirate and Cheryl G. Poncer) had brought along over 100 books for the kids, carrying them in their luggage
onto the cruise. That was enough so that each child would get a couple of books, with plenty more to share with each other. I read a story aloud to the kids, about a farmer with a problem – cows that could type! The cows had a lot of demands for the farmer. It was a fun story, and the kids were very attentive. After the story, our team distributed the books and also gifts that the group had brought, and then we spent some time playing games with the kids.  After goodbyes and hugs, it was time to leave.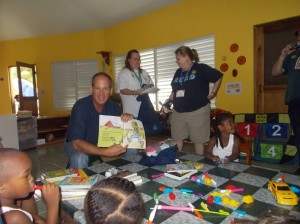 Cheryl had been right — I would never forget the day, the kids, the orphanage staff who took such loving care of them, the appreciation for the books and our visit. It was so moving to consider the life that the kids had led, the circumstances that brought them to this place, and the life ahead of them.  I was proud of our group for coming up with the idea to visit the orphanage. On top of planning all the fun events of the PaperBackSwap Cruise, they had gone deeper and found a way to give back. How typical of PaperBackSwap members! It's been 10 years since the club's launch, and the generosity and kindness of our membership continues to amaze me.
It's the kind of giving that makes our Books for Schools campaign such a success every year. So many members have asked us when the next Books for Schools will go live. We're happy to say that BFS 2014 will be launching very soon! We are planning to begin right after Thanksgiving.

You can read about Books for Schools,  see a list and details of previous participating schools, suggest schools for future inclusion, and if you want to get a head start on donating before the BFS 2014 launch, you can use the Give Credits button on this page.
Our thoughts and prayers remain with those children in Belize. May God bless each and every one of them, and guide them in their lives going forward. And may God bless each and every one of our club members. We love your giving spirit!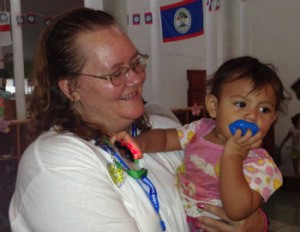 Thanks to all those who made the Orphanage visit happen: Gail P (tinkerpirate), Cheryl G (Poncer),  Ajay I., Barbara S (barbelaine1), Cari (ladycari), Kareena I., Len S (lens), Marie N (pottergal), Rick (RickMatt) , Sonal S (ComeGo), our driver Stanley, the staff at the orphanage including Director Agatha Valentine, and of course the kids!!!