In our recent Books for Kids donation campaign, our generous members donated enough credits and PBS Money to provide 12,511 books to needy children in Georgia. Richard Pickering, President and Founder invited long-time PaperBackSwap member, Jerri Adkins, to join him in distributing books to the students at Midway Elementary. Jerrie, herself, donated all 1200 credits for this school! Below are their memories of that special day.
Dear Members,
We all work very hard at PaperBackSwap to bring you the best in swapping books all over the USA.  And our club members are the best!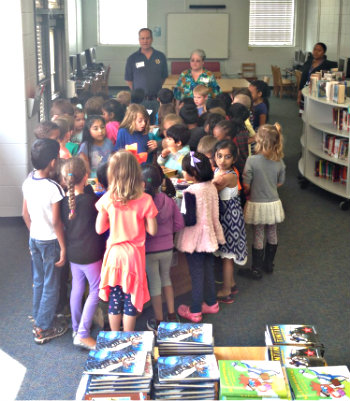 Recently, due to your generosity, I had the opportunity to hand out new books to kids at Midway Elementary School (preK – 5th grade).  These kids do not get much in the way of gifts and have a very tough life.  I was honored to be able to hand out these books due to the generosity of so many of you who donated credits in order to make this happen.
The smiles on their faces were priceless.  When I explained that they could take 2 new books home with them, they could not believe it.  Many of them brought thank you cards.  And here are a few pictures from the actually event where we met the kids.
I can not tell you how proud I am of each and every one of you who made a donation (either with credits, money for shipping, or both).  We have a wonderful community of members who truly care – about each other and through the gift of giving.  Thank you so much for all that you do in making PBS a blessed place to share our love of reading!
Richard Pickering
President and Founder of PaperBackSwap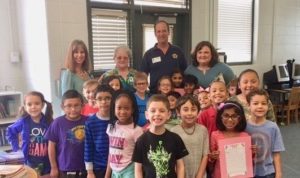 Y'all know about the School Donation Program, yeah?  It's one of our very favorite holiday things to do.  It's such a kick, to donate to a dozen schools in ten states.  Last year, I'd been saving up credits all year, looking forward to it.  But it's popular, and folks are generous, so it fills up fast.  I wound up with lots of extra credits left over, and jumped up and down a bit.
Richard contacted me about something more local with a school he had worked with before.  Now, ego-boost aside, the whole point is to get books to the kids.  (When a book in my house becomes both a book in someone else's house and a book in a kid's hands, that's math I can get behind!)  He did the legwork, and I did the driving (all two hours of it, with a stop to change, so the kids would feel important enough to get dressed-up for).
When I got there, I found out he'd been, as the saying goes, busy to some purpose.  There were boxes of books, half a hallway wide, over a classroom long, and nearly ceiling-high.  Richard said, because of doing so many schools close together, he'd been able to get a great break on the shipping, & so get lots more books.  (More math wins!)
Fortunately, the media specialists had already sorted out the books for Midway onto age-appropriate tables.  We had to keep shooing the smaller kids away from the big-kid table, as one does.  They brought them in, wave on wave, class after class.  Surf's up!  I was very grateful Richard & the others were there to help.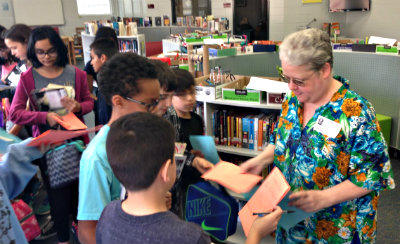 It was all an excited, rainbow-butterfly blur for several hours.  Several of the classes made adorable thank-you cards.  Richard kept directing them to me (possibly because I'd brought a bag?).  The children were very excited about the books, talking about reading them, selecting some for siblings, possibly swapping them out in their classrooms, etc.
It was lots of fun, but draining.  I was very glad to have done it.  Best of all, there's now a summer program, so everyone can get in on the fun.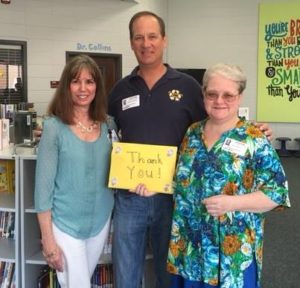 Jerrie Adkins
PaperBackSwap Member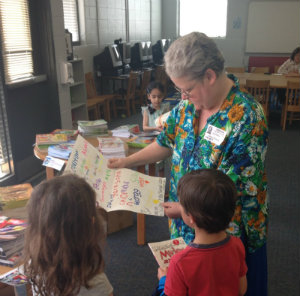 Tags: Books for Schools, Donations, Members