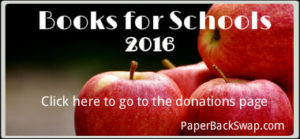 Dear Members,
The air has a chill, the days are shorter, and the leaves are turning: autumn in all its glory has come. We've just finished up a weekend of family, food, friends and counting our blessings; now it's time to hang the outdoor decorations and plunge into the whole week of Cyber Monday deals! We hope that you're finding all the things on your lists.
The passing of Thanksgiving means it's not only holiday-shopping time, it's also time for the return of Books for Schools! So many of you have asked when it would start up again, and we're happy to say that the day is here: Monday, November 28th 2016! What better season to share our love of reading with children across the country who may never otherwise have a book to call their own? Most of us can't imagine what a childhood without books would have been like. Please take a few minutes to help these children learn the joy of reading. This year we have schools from Mississippi to Illinois, and Minnesota to Tennessee. You can read more about each school on the Books for Schools page where you can also donate Book Credits or PBS Money.
In all the holiday hubbub, we do hope that you find some time to turn some leaves yourself…BOOK leaves! No matter how busy things get, give yourself a time out whenever you can and find a cozy spot, conjure up a cup of tea or hot cocoa (don't neglect the marshmallows!), and open up a good book. You deserve it!
Richard and
The PaperBackSwap Team

PS. If you know of a school that serves needy children and you would like to suggest it as a Books for Schools participant for next year, please submit the information here.
Tags: Books for Schools