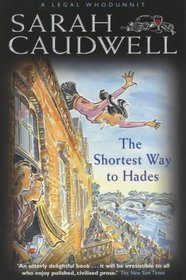 This 1984 mystery opens with five young London barristers — Cantrip, Selena, Timothy, Ragwort, and Julia – handling a trust in such a way as to save the 5-million-pound estate a 3-million-pound tax bill. But to support a court petition to make the trust incontestable, one of the cousins demands 100-thousand pounds for her signature – which makes the barristers of the other cousins up their price for signatures too. But the demanding cousin suddenly dies of blunt force trauma due to a fall from a height. The coroner rules it was an accident.
The five young barristers call in their friend Hilary Tamar to rootle about and determine if the cause of death was in fact an accident. Or murder. Or suicide. Hilary is an Oxford historian with powerful reasoning skills. Not so much an unreliable narrator as a prejudiced one, Oxonian Hilary gets barbs into Cambridge in that offhand way only an English intellectual can pull off. Hilary plumps down on the side of rigorous scholarship, to an extent naïve and pompous at the same time. But narrator Hilary is never ridiculous and promises, "Cost candour what it may, I will not deceive my readers."
Indeed, ridiculous is saved for Julia Larwood. You would think a tax attorney has a good fix on details but Julia is absent-minded and disorganized (as the English say: scatty). She tends to lose key documents and tuck away never to be found again letters that she is too afraid to open and read. She's also easily distracted by male beauty. Everybody knows she's arrived because they can hear her knocking over coat racks and dropping her handbag. Best of all, she's as quixotic as a thirteen-year-old, apt to get on a high horse about Sir Thomas More and all that ethics jazz. Julia is a marvelous comic creation.
Fans of old-school whodunnits will think of the Bright Young Things of Craig Rice novels when they hear the wit and raillery directed at Hilary by Cantrip, Selena, Timothy, Ragwort, and Julia. They will also like old-school standbys like the family tree, the map of the layout of Rupert's apartment, and some narrative given in letters. The plot is agreeably complicated and the legal-babble will call to mind the instructive explications of Henry Cecil. The stylish language is for readers who like literate mystery writers like Michael Innes, Nicholas Blake, and to a lesser extent Margery Allingham. There are British words all over the place: subfusc, rumbustious, tickety-boo, nip off to the loo, and get in a tizwozz.
I recommend this delightful legal mystery. Caudwell wrote only three other Hilary Tamar mysteries. She passed away at the age of 60 in the year 2000.