By Cheryl G. (Poncer)
It is hard to believe that come the fall, PaperBackSwap will be 10 years old! What began as a way to swap books with other avid readers across the country has turned into so much more.
For me, it has become a lifeline, a lifeboat, a connection to friends near and far. I have had the pleasure to meet and make friends with folks across the US, friendships that will last a lifetime.
I first found PaperBackSwap in a tiny blurb in a Women's Day magazine while waiting for my husband in some doctor's office, there were too many doctors at the time to even remember which one.
I tore out the blurb (yes, selfish!) and stuck it in my pocket. It was deposited on my desk with the other scraps and items that my pockets always seem to collect. And there it sat for months and months. After he passed away, I found the scrap of paper and decided to investigate. Heaven knows I had too many books just sitting collecting dust. Some I had read upwards of 3 times, whiling away the hours of endless doctor visits and hospital stays.
In 2006 I signed up for an account. Being the suspicious person I was trained to be, I keep looking for the "catch". Never did find it, and soon enough my cynical side took a backseat. The members were so kind! And generous! And funny! And the friendships started within the very first few months of my being a member. Receiving books was great, forming friendships was life altering.
And that bring us to the cruise in October 2014 for Members and their family & friends.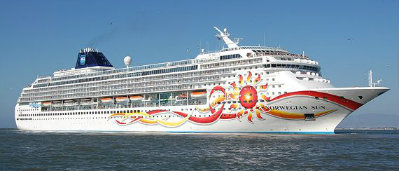 We are sailing from Tampa, Florida on Norwegian Cruise Lines, on the Norwegian Sun.
We will embark on October 26 and return to Tampa on November 2, 2014.
Come join The PaperBackSwap Team and Tour Guides on a 7 day cruise to
Roatan, Bay Islands, Honduras
Belize City, Belize
Costa Maya, Mexico
Cozumel, Mexico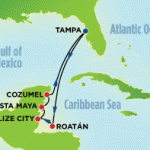 While we are at sea, your Tour Guides and Cruise Committee will be hosting multiple Wishlisted Book Swaps, a PBS Trivia Contest, a Scavenger Hunt, a Duct Tape Contest, a Q&A Session with members of the PBS Team, a Halloween Costume Contest, a Genre Dinner, Get-to-know-you Bingo, PBS Team Meet & Greet and a Cocktail Party. Our final stop will be Cozumel, Mexico, where lucky raffle winners will take a Jeep ride around the island with PBS founder Richard Pickering.
Inside Cabins are $535 per person. Oceanview Cabins range from $615 to $635 per person.  Space is limited–the cabins are almost gone, and once they are all gone we cannot get additional cabins at these prices! Registration is open until June 30th or until cabins sell out.  Don't let the ship leave without you.  You can register for the cruise by filling out this form and our Travel Specialist will contact you.  Details are available in the Discussion Forum topic.
Come with us, meet some new friends, get together with old friends, celebrate PaperBackSwap' 10th Anniversary with us on the sea!
"There are no strangers here; Only friends you haven't yet met."  ~ William Butler Yeats
"The world is round so that friendship may encircle it." ~ Pierre Teilhard de Chardin
"Friends… they cherish one another's hopes. They are kind to one another's dreams." ~ Henry David Thoreau
Tags: Members, Milestones