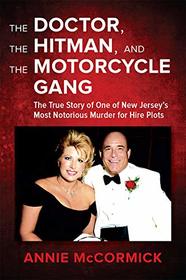 New Jersey locals woke up to the news that one of their famous radio personalities had been murdered in her home. Vivacious April Kauffman, an advocate for veteran's issues, was found dead on the floor of her bedroom, shot twice. However, this appalling crime took six years to unravel in court. This turned out to be one of New Jersey's most notorious murder-for-hire cases. Before it was all over, a highly-regarded physician and a motorcycle gang were brought down for April's death.
It takes a bit to get involved in this story. The author sets the stage by explaining April Kaufmann's life and how she got to the point where someone decided she needed to die. In the beginning, it looked like there could not be a more unlikely murder victim. April had it all; she was widely known for her philanthropic activities. She didn't just move mountains for veterans; she assisted anyone who asked her for help. Yet, on May 10, 2012, locals learned that this famous advocate for many causes was dead.
After a whirlwind courtship, Dr. James Kauffman and April married. April was so caught up in Jim's story about his military service in Vietnam that she turned her radio program's focus to veteran issues. However, after some time, April learned that Jim was never a green beret in the service; April was devastated.
Due to how Jim's story affected her, she had lined up many activities to help veterans. She knew that when veterans found out that Jim's story was a fraud, she would be smeared with the same lies. At about the same time, April found out that her husband ran a pill mill through his office, using a local unit of the national Pagan Motorcycle Gang.
The doctor was clever; the paperwork in the office showed that these were actual patients with real needs for pain medications. He gave the patients scripts for 120 OxyCodone narcotic prescriptions, which the motorcycle gang members resold for $20+ per pill. They made so much money that the doctor added a lab scam. When April started to notice, she told Jim she wanted a divorce. Jim told her she wasn't getting half of his "empire." He would kill  April's daughter (from another marriage) if April didn't drop the divorce idea immediately. Unfortunately, April didn't understand the depth of Jim's rage. Dr. Kauffman was also angry that people called him Mr. April.
Most of the book is about how April got justice; it took six years. Because the Pagan Motorcycle Gang is noted for their deep-seated animus against betraying each other, it was hard to crack their bond to get anyone to talk. Finally, it became known that the doctor offered $50,000 and unlimited OxyCodone prescriptions to murder his wife.
Many people will be aware of this story because of ABC's 20/20 investigative program. The author of this book takes the time to give the backstory of the main characters involved. She also gives credit to Atlantic County Prosecutor Damon Tyner. He reignited the case once he was elected. This is a fascinating, multi-layered story about a tragedy in New Jersey.