One of our programmers, Len, shared a St. Patrick's Day secret about me this morning in the Club Members' Thoughts discussion forum:  
Richard P., the PBS Founder, can look at a patch of clover and immediately spot the four-leafed ones. I've known one other person who could do that, and it wasn't Chuck Norris.
I'm thinking of spilling a box of toothpicks next time RP's around to see if he counts them instantly. If so, we'll know he buys his underpants at K-Mart 🙂
Have you ever known someone with this kind of 4-leaf  clover radar? How do you think they do it?
Since I've been "outed", I thought I would share a little about my talent!  Ever since I was a little kid, I have had this fairly unique ability to look down at a patch of clovers and almost immediately pick out a four leaf clover.  Many times I can find several at one time in the same patch.  My brother John has the same ability – so it must run in the family! 
Often times I will simply be walking along a path and glance down – and reach for a four leaf clover.  When friends are nearby, they are always amazed.  
This group of 4 leaf clovers was from last year.   I was out with my girlfriend's kids and they challenged me to find one as we walked along a path.  Within seconds I had found not one – but over 20!  One thing that you rarely ever see in life is a 5 leaf clover.  I have only found about a dozen in my life.  In the top left of this group, there is a 5 leaf clover.  I decided to make this one into a collage of sorts and gave it to my girlfriend – thus the "Mom" in the middle.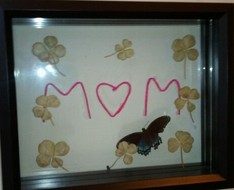 So on this St. Patrick's Day, I want to wish you the very best of luck and that you find your own 4 leaf clover – Or I can find one for you!
Richard
Tags: Members, Public Profiles